Power Kids
(2009)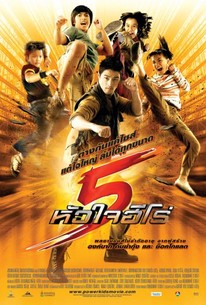 AUDIENCE SCORE
Critic Consensus: No consensus yet.
Movie Info
His chances of receiving a life-saving heart transplant thwarted when terrorists take over the hospital where the operation was scheduled to take place, a frail Muay Thai student finds his odds of living lifted when his friends decide to take on the bad guys single-handedly. Wun may be small, but he packs a hearty punch. And the same can be said for his friends, too. Now Wun is sick, and he won't survive unless he gets a new heart. Incredibly, Wun's best friend discovers that a local hospital has just received a viable heart via organ donation. But Won's only got four hours to live, and when terrorists storm the hospital it starts to look like all hope is lost. Fortunately Won's friends aren't willing to let their pal die without a fight, and before long this pint-sized wrecking crew is taking out terrorists by the dozen so the doctors will be able to operate. ~ Jason Buchanan, Rovi
Rating:
R (for violence and brief language.)
Genre:
,
Directed By:
On DVD:
Runtime:
Critic Reviews for Power Kids
All Critics (3) | Fresh (2) | Rotten (1)
...one of those alien films oneruns across from time to time - it's half family-friendly tearjerker and half brutal kick-butt-athon. But the action choreography is predictably terrific.

Arkansas Democrat-Gazette
Short, sweet, and eventually mindful of splendid action choreography, Power Kids is too disjointed to truly rouse the senses, but what it does retain in the excitement department is more than enough to pass the time.

If the idea of some moppets Muay Thai-ing their way through bad guy after bad guy sounds good to you, I struggle to think that this would disappoint.

Audience Reviews for Power Kids
The last time I ended up watching a Martial Art movie from Thailand I suffered through the abysmal nonsense of Ong Bak 3. Now while Power kids is more watchable than Ong Bak 3, it's nothing from what you would expect from the usual Thailand Martial Art movie. Power Kids (or 5 Heart Heroes in Thai) is about four children who sneak into a terrorist controlled hospital to steal a heart to transplant for the 5th child who is dying in a different hospital. Now the story of the movie is much more believable and interesting than most of the other Thailand Martial Art movies I've seen. Yet I still have a hard time believing a group of heavily armed terrorists can't take out four kids who know Muay Thai. Also it has some filler which is surprising because this movie is barely 80 minutes which probably gives you a pretty good idea of how little potential the story has in this movie to be any good. Now there definitely some touching moments since these are kids we're talking about going into a hospital filled with heavily armed terrorists to retrieve a heart for a dying kid, but the movie relies to heavily on them being kids which means you wanting them to live isn't as powerful as it could have been. The Martial Art in this movie will receive mix reaction for sure as I got mix feeling watching this. On one hand we are seeing kids doing Martial Art and they look convincing doing it. Though the down side to this it's really hard to believe that these kids can beat adults with guns who clearly look stronger than them, the first two time we see it's reasonable because they use objects and fight against other kids, but afterwards it believability wears off when they go against adults. One thing that'll sure get parents mad is that these kids are actually hit and shot at in this movie, while it makes the movie more exciting parents on the other hand won't be enjoying it. Power Kids is not a bad watch for a Martial Art movie from Thailand, while the Mauy Thai doesn't look as impressive as it in did in the original Ong Bak and it's pretty much the same thing here. It's not a bad watch, if you got some to kill go right ahead into this movie, but if you want something more serious than look else where.
Caesar Mendez
Super Reviewer
½
Power Kids (aka 5 huajai hero) is sheer awesomeness, no doubt about it. It's quite evident that this is director Krissanapong Rachata's first film, not to mention writer Nonont Kontaweesook's first as well, but with the help of co-writers Napalee and Piyaros Thongdee (The Protector), they're able to craft a film that's so incredibly unintentionally hilarious that it's insane how unknown this film still is at the moment. Power Kids plays like Three Ninjas meeting Ong-Bak, where a group of kids do kid stuff and play around as though they were in a friendly G-movie. They get to use their impressive Muy Thai skills here and there, but then one of them has heart failure and the heart transplant cannot go on because terrorists have taken over the hospital. With a keen sense of wonder and innocence, the kids sneak into the hospital and begin beating the living piss out of the terrorists. The end result is an R-rated Three Ninjas with loads of violence and language but the hilarious part is the overall tone and mood of the film is still that of a children's movie, as though nobody told the filmmakers that violence and language are considered unacceptable in these kinds of films. I was literally flabbergasted by what I was viewing on my TV. This movie is all sorts of nonsensical awesomeness. I just couldn't get over it. In all seriousness, these kids are really talented and if they still have careers in 10 years, they could be some really cool action film stars, but for now, I cannot help but laugh at their film debuts. Power Kids is straight up corny, campy, awesome, violent, wacky, and a trip all rolled up into one. Check this out and prepare to be blown away! I feel sorry for those who are taking this film seriously and giving it bad ratings. It's just too hilarious to dislike.
Jason Duron
You don't stumble on a film called Power Kids and just walk past it on the shelves. No, you have to pick it up, read the back and see what in the world it is about. And if you are like me you will bring this one home to see how exactly it is as a film. If you are a fan of such Thai action flicks like Ong-Bak or Chocolate, and on the off chance that you wondered what those films would have been like if the primary cast were all kids, well director Krissanapong Rachata's Power Kids might be the sort of film for you. There is a review quoted on the DVD/Blu-Ray for the film that calls this "Die Hard with kick ass kids." I'd take that reference a little further and say that Power Kids would be the end result of if you took Die Hard and merged it with 3 Ninjas. But unlike 3 Ninjas, Power Kids doesn't dumb down the action to make the film more family friendly. And the bad guys that these little kids go up against aren't bumbling idiots, but some rather lethal people willing to kill anyone regardless of age. How's that for family entertainment? The movie centers around 5 friends, one of which has a weak heart. Slated to get a heart transplant, his life hangs in the balance as a group of terrorist take over the hospital that his new heart is to be transported from. The other four friends, most of who incidentally have been raised on a strict regimen of martial arts, break into the hospital to fight their way through the terrorist and hopefully get their friend's much needed heart to him before he dies. Seeing kids in an action-oriented, R rated movie might conjure up memories of Kick-Ass, which drew in a lot of criticism for featuring a young girl in some rather violent situations. Power Kids never arrives at a point that could be compared to the things that Kick-Ass upset people with, but if you don't like seeing kids getting their asses beat by adults you might still have a problem. The action doesn't go too far though, and is pretty tame despite the age difference in the combatants. And I even found myself enjoying watching these kids fighting, especially Wut (Nantawooti Boonrapsap) and Kat's (Sasisa Jinamanee) fight with the leader of the terrorist group at the end of the film. Power Kids isn't one of the greatest action films around, but for one that features children it is a little edgier than what you'd expect. The movie is a brisk 77 minutes, which is both a blessing and a slight curse. On one hand the film doesn't outstay its welcome, but on the other it comes to an ending rather abruptly. I think there could have been just a little bit more to Power Kids, but as is I think this is a very entertaining little action movie.
Bryan Gomez
Power Kids Quotes
There are no approved quotes yet for this movie.
Discussion Forum
Discuss Power Kids on our Movie forum!