Power Kids
(2009)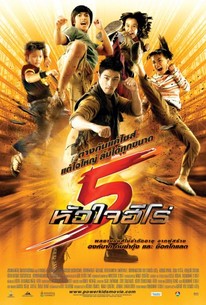 AUDIENCE SCORE
Critic Consensus: No consensus yet.
Movie Info
His chances of receiving a life-saving heart transplant thwarted when terrorists take over the hospital where the operation was scheduled to take place, a frail Muay Thai student finds his odds of living lifted when his friends decide to take on the bad guys single-handedly. Wun may be small, but he packs a hearty punch. And the same can be said for his friends, too. Now Wun is sick, and he won't survive unless he gets a new heart. Incredibly, Wun's best friend discovers that a local hospital has just received a viable heart via organ donation. But Won's only got four hours to live, and when terrorists storm the hospital it starts to look like all hope is lost. Fortunately Won's friends aren't willing to let their pal die without a fight, and before long this pint-sized wrecking crew is taking out terrorists by the dozen so the doctors will be able to operate. ~ Jason Buchanan, Rovi
Critic Reviews for Power Kids
All Critics (3) | Fresh (2) | Rotten (1)
...one of those alien films oneruns across from time to time - it's half family-friendly tearjerker and half brutal kick-butt-athon. But the action choreography is predictably terrific.

Arkansas Democrat-Gazette
Short, sweet, and eventually mindful of splendid action choreography, Power Kids is too disjointed to truly rouse the senses, but what it does retain in the excitement department is more than enough to pass the time.

If the idea of some moppets Muay Thai-ing their way through bad guy after bad guy sounds good to you, I struggle to think that this would disappoint.
Audience Reviews for Power Kids
The last time I ended up watching a Martial Art movie from Thailand I suffered through the abysmal nonsense of Ong Bak 3. Now while Power kids is more watchable than Ong Bak 3, it's nothing from what you would expect from the usual Thailand Martial Art movie. Power Kids (or 5 Heart Heroes in Thai) is about four children who sneak into a terrorist controlled hospital to steal a heart to transplant for the 5th child who is dying in a different hospital. Now the story of the movie is much more believable and interesting than most of the other Thailand Martial Art movies I've seen. Yet I still have a hard time believing a group of heavily armed terrorists can't take out four kids who know Muay Thai. Also it has some filler which is surprising because this movie is barely 80 minutes which probably gives you a pretty good idea of how little potential the story has in this movie to be any good. Now there definitely some touching moments since these are kids we're talking about going into a hospital filled with heavily armed terrorists to retrieve a heart for a dying kid, but the movie relies to heavily on them being kids which means you wanting them to live isn't as powerful as it could have been. The Martial Art in this movie will receive mix reaction for sure as I got mix feeling watching this. On one hand we are seeing kids doing Martial Art and they look convincing doing it. Though the down side to this it's really hard to believe that these kids can beat adults with guns who clearly look stronger than them, the first two time we see it's reasonable because they use objects and fight against other kids, but afterwards it believability wears off when they go against adults. One thing that'll sure get parents mad is that these kids are actually hit and shot at in this movie, while it makes the movie more exciting parents on the other hand won't be enjoying it. Power Kids is not a bad watch for a Martial Art movie from Thailand, while the Mauy Thai doesn't look as impressive as it in did in the original Ong Bak and it's pretty much the same thing here. It's not a bad watch, if you got some to kill go right ahead into this movie, but if you want something more serious than look else where.
Caesar Mendez
Super Reviewer
Power Kids Quotes
There are no approved quotes yet for this movie.
Discussion Forum
Discuss Power Kids on our Movie forum!