Saban's Power Rangers
(2017)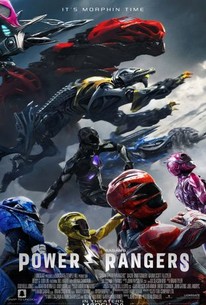 TOMATOMETER
AUDIENCE SCORE
Critic Consensus: Power Rangers has neither the campy fun of its TV predecessor nor the blockbuster action of its cinematic superhero competitors, and sadly never quite manages to shift into turbo for some good old-fashioned morphin time.
Saban's Power Rangers Videos
Saban's Power Rangers Photos
Movie Info
A group of high-school kids, who are infused with unique superpowers, harness their abilities in order to save the world.
News & Interviews for Saban's Power Rangers
Critic Reviews for Saban's Power Rangers
Audience Reviews for Saban's Power Rangers
Dean Israelite's morphs a campy TV series into a full fledged action adventure with the Power Rangers. Riding in at nearly 2 hours, the character buildup, at least for most of the characters, does its job. The first couple of acts of this picture takes its time morphing into shape, and this is good; the better parts of the film. The finale is where all the fun happens; however it speeds up too quickly for its own good. The CG and action is a mixed bag, but more than tolerable. The finale showcases more than enough to go around. RJ Cyler, Dacre Montgomery, and Naomi Scott are the heart of this picture. Ludi Lin, Becky G, and Elizabeth Banks, while integral characters, suffer from a sufficient lack of development. While the Power Rangers isn't perfect, it more than satiates the hunger for an action adventure.
½
Growing up watching Mighty Morphin Power Rangers it was so great to take my son to watch this, Sort of like a passing down to the next generation, The film was pretty good but it takes a very long time for any of the action to start and with a near 2 hour run time it does drag at times, I can't comment on 3D as I watched the 2D version, The story was ok and acted ok too even though it does have its cheesy moments, I read a few comments saying they will not watch this as the Yellow Ranger is a lesbian which I have no problem with and I think people need to grow up abit, If the gay Power Rangers offends you the you should know that the Blue Ranger is autistic, It was great go see this as it will appeal to more people but if you still think it's the 40's do is all a favour and keep your unwanted comments to yourself, When the action does start it was allot of fun with some great effects, It will please New and especially old fans of the classic Show.
Jamie Clarke
Super Reviewer
"It's morphin' time!" For the first time in a long time, a Power Rangers movie has hit the big screen, this time fueled by a large budget, a solid acting cast, modern special effects, and quite a bit of potential. Unfortunately for this round of morphin', it doesn't quite live up to that potential. Saban's Power Rangers features a relatively little-known group of actors portraying the titular team of armored super heroes: Dacre Montgomery as the Red Ranger, R.J. Cyler as the Blue Ranger, Becky G. as the Yellow Ranger, Naomi Scott as the Pink Ranger, and Ludi Lin as the Black Ranger. These five people mark one of the things that the film gets right: its acting talent. Surprisingly enough, all of these actors do a great job in the film portraying their respective personality-fueled characters and their general, anx-ty high school student behaviors. Their performances contribute to a more serious, reality-grounded tone that the film attempts to embrace over the course of its run-time, and something that I enjoyed quite a bit. Some of the other minor characters in the film are also well-portrayed, like David Denham as the Red Ranger's (Jason's) dad, Bryan Cranston as Zordon, and Bill Hader as Alpha-5 (ignoring how annoying the character generally is). Additionally, despite my overall issues with the way Rita Repulsa is written, Elizabeth Banks does a good job in portraying her. Now, the biggest issue with Power Rangers is the ridiculous conflict of tones that exists through the film's progression. Most of the first two-thirds of the film is where this conflict is dialed down to a minimum, and this is when the film exceeded my expectations as a Power Rangers reboot. While the initial set-up of the characters is very rough - three of the rangers are given great character development, while the other two are shoehorned into the scene where the five of them first discover the Power Stones - the overall tone of this part of the story gives the film lots of promise. It is a much more serious, realistic take on the classic Power Rangers TV show. The writing does a lot to show what these characters' ordinary lives in school are like, and gives a more-or-less believable representation of how they react to receiving their powers. Unfortunately, once they discover Zordon and the meaning behind their abilities, things start to go downhill. The serious tone that the movie had developed starts to mix poorly with Rita Repulsa's introduction and a load of cheese that surrounds her evil campaign and the Rangers' journey to harness their powers to stop her. Corny dialogue, a ridiculous villain, and plot elements that make little sense plague this part of the film. This culminates in the film's conclusion: once the Rangers don their suits and enter the Zords (only five minutes of their time as Rangers is allotted for hand-to-hand combat), the tone immediately switches from entirely serious to entirely cheesy, resulting in a cringe-worthy and predictable ending. This ending is filled with poor special effects, a hilariously blatant marketing opportunity for Krispy Kreme, laughable dialogue, and badly shot action sequences. The concluding scene jarringly switches back to the realistic tone of the rest of the movie, delivering an odd and unsatisfying conclusion. Saban's Power Rangers is a mess. The hugely conflicting tones throughout its runtime bogs down the film quite a bit. Its grittier, more serious tone, something that would have contributed to a much better result if the writers had stuck with it, collides blatantly with the over-the-top cheesy tone of the remainder of the movie. This means that it is neither a kids' film nor an adults' film, but a grossly formulated mixture of the two that only appeals to long-time fans of the franchise. And while it does have a solid cast and an abundance of promising moments, it ends disappointingly. Hopefully, when the next Power Rangers reboot is released (because we all know it will happen at some point), it will follow closely in the footsteps of that awesome short film that was released on the internet a couple of years ago. Saban's Power Rangers gets 2/5 stars.
Paul Fuchs
Super Reviewer
Saban's Power Rangers Quotes
There are no approved quotes yet for this movie.
Discussion Forum
Discuss Saban's Power Rangers on our Movie forum!