Power Trip
(2003)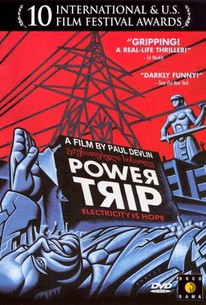 Movie Info
In 1999, the major American utility company AES Corporation spent over 30 million dollars to purchase the former Soviet Republic of Georgia's electrical distributing company, Telasi, in a bid to expand the American company's international market share. In his 2003 documentary entitled Power Trip, filmmaker Paul Devlin examined the actions of the Georgian citizenry and governmental officials, as well as those taken by the AES management team. What looked good on paper turned into a series of major business setbacks, as the Republic of Georgia had been beset with constant domestic turmoil since the collapse of the U.S.S.R. Quite nearly from the beginning of the Telasi buy-out, the AES upper management team was presented with numerous seemingly unpredictable and insurmountable obstacles which included the extremely low incomes of the vast majority of the population and pervasive governmental corruption. As the American company struggled to single-handedly update a nearly Third World economy, the Georgian populace was merely struggling to exist. Power Trip was a included in the program for the 2003 Berlin International Film Festival.
Critic Reviews for Power Trip
All Critics (33) | Top Critics (11) | Fresh (31) | Rotten (2) | DVD (1)
Surprisingly funny, enlightening and informative. And watchable.
May 20, 2004 | Rating: 3/5
Arizona Republic
Top Critic
Highlights the disparity between the people and their exorbitant bills, but it's also a brief history of modern Georgia, a country whose citizens are frequently failed by their government.

Devlin's movie deals with transition and displacement in the former Soviet Union. It introduces us to a highly committed international work force and to disgruntled Georgians. The movie also immerses us in a conflict that appears irreconcilable.
May 14, 2004 | Rating: B+

Denver Rocky Mountain News
Top Critic
An arresting and fascinating story that's ultimately not only about politics and business, but also about the human condition itself.
Dallas Morning News
Top Critic
Through the ever-hopeful eyes of Lewis, the story unfolds in unexpected directions, emerging as both a portrait of a changing Georgia and a study of power.
January 23, 2004 | Rating: 3/4

An instructive account of the perils of attempting to privatize decrepit public utilities in countries with stagnant economies.
January 23, 2004
Washington Post
Top Critic
Audience Reviews for Power Trip
There are no featured audience reviews yet. Click the link below to see what others say about Power Trip!
Power Trip Quotes
There are no approved quotes yet for this movie.
Discussion Forum
Discuss Power Trip on our Movie forum!