Pray for Morning
(2006)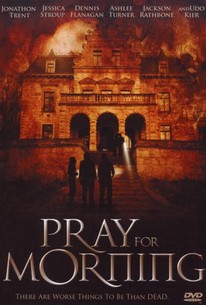 AUDIENCE SCORE
Critic Consensus: No consensus yet.
Movie Info
Twenty years after the brutal slaying of five students at an abandoned resort hotel, a group of fearless students return to the site of the original crime only to discover that the murderer is still on the loose and waiting to strike again. The year was 1984: A group of five students broke into the Royal Crescent Hotel as part of a local rite of passage. Days later, their bodies were found mutilated. The killer was believed to be a local drifter, though no one was ever caught or convicted of the murders. At the time, the press made no mention of the fact that the bereaved parents insisted that the police hire a psychic to locate the murderer, and that after handing one of the student's personal objects the clairvoyant claimed to have seen the killer's face. Though the psychic had claimed that the killer was still inside the hotel, a comprehensive sweep of every floor yielded to clues to his whereabouts. Later that same night, the psychic died in her sleep, effectively rendering the case cold. Flash forward twenty years later, and another group of students conducting a so-called "Tour of Fear" break into the hotel on a mission to visit each of the five rooms where the high schoolers had been slain. Upon discovering a severed hand in one of the rooms, the students unleash a terrifying force that has haunted the hotel grounds for nearly a century. Now, if they can only solve the mystery of a world-class hotel that once hosted royalty before mysteriously plunging into disrepute, perhaps that can escape with their lives and save their immortal souls from eternal damnation.
Rating:
NR
Genre:
Directed By:
Written By:
On DVD:
Runtime:
Critic Reviews for Pray for Morning
There are no critic reviews yet for Pray for Morning. Keep checking Rotten Tomatoes for updates!
Audience Reviews for Pray for Morning
Pray for Morning seems to offer an original twist on he haunted house paradigm but then becomes the most boring, repetitive piece of crap ever. At the one-hour mark, I felt like it had been on for three times that length.
Al Miller
A cast of young actors from 90210, American Pie's Bandcamp and Twilight meet a ghostly Udo Kier in a haunted hotel and he makes their lives miserable by magically breaking their bones. And really, who could blame poor, puffy old Udo, who staggers through this role with an expression that looks like he's waiting for his paycheck. Eight teenagers decide to spend the night of graduation at the abandoned Royal Crescent hotel, where some other teenagers were slaughtered and mutilated 25 years before. We learn later on that one of those victims was the brother of one of the girls in the current crop, and she cries about it quite a bit, but never explains why she'd want to go back when she knows about what happened the last time. We get a lot of things that don't make much sense here, such as two characters having a fight over a mutual girlfriend while literally running from ghosts, or a character who insists that his screaming friend is "joking" when one of the group was found in a bleeding, crumpled heap just moments before. And there's a teen who was somehow the son of the hotel's owner, who died in 1921. Huh? Udo Kier is the villain. He's the ghost of a hotel entertainer, a magician, who the hotel owner killed back in the 20's. His hands were chopped off and hidden separate from the body to prevent him from coming back to life. And he had the Book of Hades, which contains some of the worst poetry you'd ever want to hear. Maybe that's why Kier constantly has a look of bemusement on his face. Or maybe he's just wondering how he could have wound up in a lame teen-scream haunted house flick. This flick is basically "The Shining" meets "The Wizard of Gore" meets "The Hills." Pray for closing credits.
Brian Seitzman
½
Well, the film does try and go beyond usual spook house films, but this just results in an impotent copy of The Shining. It's budget doesn't allow for what it wants to achieve, resulting in scenes of a killer Night-Club lighting rig or something. It has some good moments early on where it manages to be creepy and unsettling without loud noises. Weirdo's and characters just appear in the frame. The reactions to these specters aren't as well played out. Campy and misled performances result in characters that you want dead because of their inexplicable actions.
Luke Baldock
Super Reviewer
Pray for Morning Quotes
There are no approved quotes yet for this movie.
Discussion Forum
Discuss Pray for Morning on our Movie forum!