A Prayer for the Dying
(1987)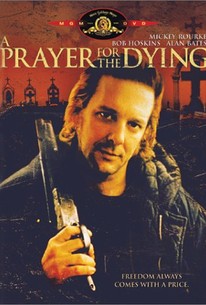 A Prayer for the Dying Videos
A Prayer for the Dying Photos
Movie Info
A man struggling to escape the political unrest of Northern Ireland finds that his violent past still follows him in this drama. Martin Fallon (Mickey Rourke) is a terrorist with the Irish Republican Army who, while attempting to blow up a British military transport, accidentally bombs a bus full of schoolchildren. The incident haunts Fallon, who decides to quit the IRA and escape to London. Fallon wants to relocate to America, but he lacks a passport, and his criminal past would prevent him from getting one. Jack Meehan (Alan Bates), a British gangster who knows about Fallon's past, offers him a deal -- he can get Fallon the papers and the cash to go to America, but in return he must kill a man. A priest, Father De Costa (Bob Hoskins), witnesses Fallon committing the murder, and Fallon wants to find a way to keep De Costa quiet without putting more blood on his hands. The original director of A Prayer for the Dying, Franc Roddam, left the production midway through shooting due to disputes with the producers, and star Mickey Rourke later attempted to disassociate himself from the film.
Rating:
R (adult situations/language, violence)
Genre:
, ,
Directed By:
Written By:
In Theaters:
On DVD:
Runtime:
Studio:
Virgin Vision
Critic Reviews for A Prayer for the Dying
All Critics (8) | Top Critics (1) | Fresh (5) | Rotten (3) | DVD (1)
Muses on the difficulty once violent men have in ridding themselves of the mark of Cain.

Spirituality and Practice
Tense, Completely original and well-acted.

"it's in need of salvation"
Audience Reviews for A Prayer for the Dying
½
Aimed big but came up waaaaaay short of it's mark......for all it's on screen talent it's a rather pedestrian offering.
bill secor
May you die in Ireland Martin Fallon is a former assassin who has been asked to perform one last job. Fallon reluctantly takes the job. He sneaks up on his victim and executes him in front of a priest. The priest causes Fallon to question his profession. As Fallon tries to step out of the shadow of his former life, his most recent employers will stop at nothing to ensure he disappears for good. "What are you doing father, praying or puking?" Mike Hodges, director of Murder by Numbers, I'll Sleep When I'm Dead, Flash Gordon, The Omen II, and Get Carter (1971), delivers A Prayer for the Dying. The storyline for this picture is interesting and on par with numerous other films within the action genre. The acting in this film separates it from other pictures with similar plots and the cast includes Mickey Rourke, Liam Neeson, and Bob Hoskins. "You should have shot the bastard." A Prayer for the Dying is a film that grabbed my attention based on its marvelous cast. I am a Mickey Rourke fan and have been on a mission to see as many of his pictures as possible. I will say Rourke does an awesome job of delivering an Irish accent and his character is predictably eccentric. Overall, this is a worthwhile action picture that does little to separate itself from other films in the genre other than having outstanding acting. "I bury people or I burn them." Grade: C+
Kevin Robbins
What the hell made anyone want to watch this one I saw a good rating and thought why not. Boy was I wrong. Mickey Rourke plays an IRA bomber who accidentally blows up a school bus full of kids instead of the intended targets an army troop truck. When pushed to the brink he must do all that is necessary to get his freedom back. What was the director thinking when he thought this film was going to work. Did he oversleep the day his god gave out common sense? He had a non-blind person play one who also played the piano with shots showing she wasn't even close. Throughout the movie she looks directly into peoples eyes then later she's lighting candles. Why she's BLIND... Best of all Mickey R. sounds like a leprechaun from Lucky charmsville. Some of the acting was OK, but either the story was a pile crap or the director couldn't see the big scope. Anyway, it was a complete waste of time. By the end I wanted to smash my face onto the table next to me so it would all be over. Don't watch this unless you like movies that are more wrong than right.
jeremy wallace
A Prayer for the Dying Quotes
There are no approved quotes yet for this movie.
Discussion Forum
Discuss A Prayer for the Dying on our Movie forum!