Praying With Lior
(2008)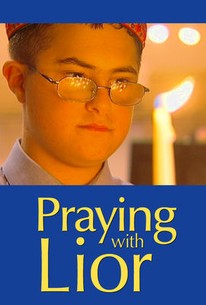 Movie Info
A portrait of young Lior Liebling, a child with Down Syndrome who is filled with an unquenchable spirit of davening (prayer) and singing. One of four children of Rabbi Mordechai Liebling and the late Rabbi Devora Bartnoff, Lior cajoles his way into the hearts of his siblings and his loving stepmother, Lynne Iser. As he navigates his daily life towards the bar mitzvah he has long anticipated, the film documents how the family and spiritual community he loves so much affirms the essence of the man Lior is becoming.
Rating:
NR
Genre:
, ,
Directed By:
In Theaters:
On DVD:
Runtime:
Studio:
News & Interviews for Praying With Lior
Critic Reviews for Praying With Lior
Audience Reviews for Praying With Lior
½
What a wonderful, supportive and close-knit family Lior has. This movie was very interesting to watch for me simply to see what that big-family atmosphere is like, so bustling and busy and full of faith. Lior is a person that seems very happy and oblivious, spiritually inclined and playful. It feels right to call him a "spiritual genius" in a lot of ways, because sometimes in his interviews he acts as if he's got some pretty sure answers to life's questions and just doesn't feel like telling! And perhaps that is the case - maybe he really does know what it means to be close to God, but it is something one can only be and not necessarily explain in old-fashioned words. Something said by one of the adults in the movie did get me to thinking, however: what if Lior is merely repeating what gains him praise and smiles? If, as she said, Christmas carols were the order of the day, would he be singing those instead with all his heart? Discussion like this is what I felt the movie was lacking. The summary at the back of the Netflix cover for this DVD claims that this movie deals with supremely deep questions about religion, disability, etc. I feel, though, that there are only two instances of this shown, one which I have mentioned, and the other where Lior's father muses upon the idea that perhaps his son has fewer "veils" between himself and God. I wanted more of this kind of discussion! In the end, this movie ends up being just the story of one boy on his way to becoming a man. The rest is left to the viewer to contemplate on their own time. Perhaps that is just as well, because if the question really were about how mental disability impacts one's faith and vice versa, I might have wanted to see how other families and children of those families integrated those two things. This movie certainly did not have time for that. All of the elements of drama are here already with just Lior. I felt sad alongside him for the loss of his mother. I empathized with his hopefulness that once a rite of passage happens, other things will just magically happen just because. I also, at the time came, found myself on the edge of my seat wondering if Lior was going to successfully pull off the Bar Mitzvah speech. Then, seeing Lior two years after the initial filming was interesting - Lior really does look older and more distinguished. Part of me, sadly, thought that he'd remain a child forever because of his having Down Syndrome - but not so. Like his mother said, he will find his own path. This movie is an interesting and admittedly cute adventure into a life that we don't usually see. I just wished it examined more of the big questions.
Jennifer Sundt
½
Honestly, everything I know about the Jewish faith (which isn't much) I've learned from watching Fiddler On the Roof seven or eight times. With that in mind, the story of Lior Liebling is, for me, as enlightening as it is inspirational. A great documentary about challenge and faith and family and "Up Syndrome".
Randy Tippy
Super Reviewer
Praying With Lior Quotes
There are no approved quotes yet for this movie.