The President's Man
(2000)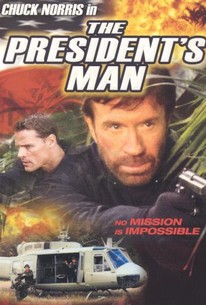 AUDIENCE SCORE
Critic Consensus: No consensus yet.
Movie Info
Chuck Norris stars in this made-for-TV thriller as Joshua McCord, a Presidential secret agent. Though still quite virile and limber, McCord feels that he is getting too old for his job, thus he begins training a younger man named Deke Slater (Dylan Neal) as his replacement, using Zen and proper nutrition as primary teachings tools. But McCord springs back into action -- and kicks plenty of serious butt in the process -- when the First Lady is kidnapped by a terrorist organization. First telecast by CBS on April 2, 2000, The President's Man was followed two years later by a sequel, The President's Man: A Line in the Sand.
Rating:
PG-13
Genre:
,
Directed By:
In Theaters:
On DVD:
Runtime:
Studio:
Norris Brothers Entertainment
Critic Reviews for The President's Man
There are no critic reviews yet for The President's Man. Keep checking Rotten Tomatoes for updates!
Audience Reviews for The President's Man
½
After watching a number of art house films in a row, it's nice to unwind with a cheesy Chuck Norris action flick. After watching a number of artsy and foreign films, I really do need my trashy entertainment and The President's Man certainly fit that much-needed bill. Joshua McCord is a top agent for the President when not teaching at a college. After rescuing the President's wife from terrorists in Brazil, Joshua is considering retirement and wants to train a new agent for the President. Meanwhile, a man named Deke Slater is part of an elite military unit, until he is receives a court martial for disobeying commands when he refused to leave men behind. During his prison sentence, he ends up killing one of the inmates in self defense, earning him further prison time and a hopeless future, until he is recruited by Joshua and his daughter, Que, to be Joshua's successor. Naturally, Deke is rather cocky like any new trainee, and even makes a major blunder during a mission to rescue a girl from a cult, resulting in Joshua having to come save him. This makes Joshua wonder whether or not he should keep training him, but decides to keep going. Then, when an important physicist is kidnapped by a Colombian cartel (A cartel Deke faced against in the mission that got him a court martial), the two must go in and not only save the scientist and his family, but prevent the group from building a bomb. The story is by no means amazing, but would you really expect it to be in a made-for-TV Chuck Norris film? It's fairly competent, but it also has layers of cheese slathered upon it, as it is a Chuck Norris film. It works for the overall feel of the film, to say the least. The acting by Chuck Norris is fairly decent, but as expected, the rest of the acting is pretty cheesy, but at least the cast members seemed to be having a lot of fun with the cheesy vibe the film emanates, and thus, are fun to watch. The real reason to watch this is solely for the basis of cheesy, action-packed entertainment, which the film works as. There's plenty of gun battles, training montages, explosions, martial arts battles - the works. For trashy entertainment purposes, it'll give you what you want. The President's Man will only be enjoyed by lovers of trashy action films and Chuck Norris fans. This won't appeal to anyone else, but it works for the purpose it serves and I had a lot of fun watching its cheesy elements unfold.
Keenan Sullivan
½
38% They've stolen 007's theme music! Also, great flashback of A FORCE OF ONE. Question: If half the world turned against America, does that make them all terrorists? How about the NWO (New World Order), are they considered terrorists? The guy across the street says he's going to blow up the stray cat that goes in his backyard, is he a terrorist? America is going down the tubes, learn to swim.
FilmGrinder Stone
Another typical Chuck Norris movie, which isn't meant to be negative. Norris movies are very formulaic, and as such, bring a sense of comfort when you watch them. You know you'll get barely passable acting, a simple story (usually having some kind of revenge motif) with an acceptably open ending so there can be sequels, and some kick-ass martial arts. This is that movie.
Don Schick
The President's Man Quotes
There are no approved quotes yet for this movie.
Discussion Forum
Discuss The President's Man on our Movie forum!