Prey
(2010)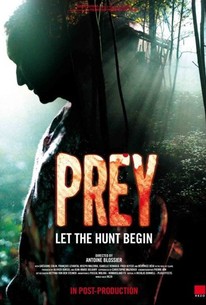 AUDIENCE SCORE
Critic Consensus: No consensus yet.
Movie Info
The hunters become the hunted after venturing into the French countryside to track down a mysterious predator that's been terrorizing the local deer population in this backwoods shocker from first-time writer/director Antoine Blossier. Nathan (Grégorie Colin) and his wife Claire (Bérénice Bejo) have recently found out they are expecting their first child as they venture out of the city for Claire's annual family reunion. The owners of a once lucrative pesticide company, Claire's family now faces the very real possibility that their business could go bankrupt. Add to that the fact that the local deer population has been behaving very strangely, and tensions at the traditionally jovial reunion quickly spike. Later, as Nathan and his in-laws and venture into the nearby forest to search for the elusive predator that's been stalking the area, they discover a whole new breed of terror.
Rating:
NR
Genre:
, , ,
Directed By:
Written By:
In Theaters:
On DVD:
Runtime:
Critic Reviews for Prey
There are no critic reviews yet for Prey. Keep checking Rotten Tomatoes for updates!
Audience Reviews for Prey
A very pleasant surprise. I'm well aware of how lame a plot revolving around killer pigs sounds, but it is pulled off very well. A great deal of its success revolves around how seriously it is taken by the filmmakers. They manage to transform an initially hokey story idea into a tense and edge of your seat film. As dumb as a movie about killer pigs may sound, it helps to know that boar are actually pretty viscous critters. There are literally thousands and thousands of reported attacks on people, with hundreds of reported fatalities. They are becoming a very big problem all throughout Europe and the Southern United States, as they are rapidly invading ecosystems and destroying the natural ecology. In addition to wreaking havoc on the natural order, they are frequently coming into contact with humans, often with violent outcomes. Upon knowing these facts, the plot of the movie is (while still extreme and obviously fictitious) not quite as far fetched as a knee jerk reaction might think it. As I said, the thing that sells this movie is its seriously taken nature. There is no camp, cheese or comedic relief. It maintains a very somber tone that elevates the material. The direction of the movie reflects this as it uses alot of dark tones and classic tension building techniques. The way the pigs are used are very similar to how Speilberg used the shark in 'Jaws'. You sense the pigs more by implication rather than actually seeing it. Great use of sound, shadow and movement to represent the pigs rather than showing them and reminding everyone that the monster is just a boar. What we do see of the critters isn't half bad, but the filmmakers definitely pulled it off better by not overexposing the idea. By using these techniques, director Blossier is able to get some awesomely tense moments out of his film. Certainly some edge of your seat scenes that are pulled off very very well. The acting is pretty decent from a totally unknown French cast. Again, a major strong point is that the actors believe in their roles and play them seriously. The lead character played by Colin is particularly strong. I can't say I was a huge fan of the subplots involving the family business and the poisonous fertilizer. I realize it was supposed to be an ecological message, but it really didn't need it. It did add an element of tension between Colin's character and Levantal's, but I thought it was a mostly unnecessary plot device. In addition to some unneeded subplots, there were a few other negatives. At points the direction became difficult to follow. The combination of quick cuts and the dark lighting made it hard to know exactly what is happening. This wasn't aided by the story's tendency to spin a bit out of control at times. Adding to this problem is the fact that the film is subtitled. I don't have a problem with subtitles, but in a film like this in which alot is going on quickly coupled with jumpy storytelling and dark lighting, having to read all the dialogue can easily distract me from being able to pay attention to a quickly moving film. None of these flaws cause major problems, but it was a bit distracting at parts. Despite a couple gripes however, I thought this was a really solid creature feature with a boatload of edge of your seat moments. It seemed to have a way of making me a little uncomfortable, and that's what a horror movie is all about. An unconventional ending adds to a seriously taken production that makes the absolute most of what it has. Not perfect, but loads better than the majority of similar themed films with 10 times the budget.
Julian Toepfer
a fairly straight forward thriller, the boars are fairly effective, the situation slightly predictable, but the ending crushing.
R.John Xerxes
½
Prey shows that you can literally make a horror movie about anything. In this case a herd of chemically enhanced wild boars terrorize a wealthy family of French industrialists who set out on a hunting trip. It sounds dumb but writer/director Antoine Blossier constructs enough human interest, builds suspense & captures some great looking scenery making Prey a worthwhile creature feature.
Jake Patrick
Prey Quotes
There are no approved quotes yet for this movie.