The Price of Milk
(2001)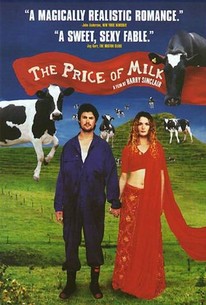 Movie Info
New Zealand filmmaker Harry Sinclair turns to a more rural setting with this modern fairy tale centering on two lovers, Lucinda ($Danielle Cormack) and Rob (Karl Urban), who live on a dairy farm in a quaint small town. On a standard errand one day, Lucinda accidentally hits an older woman on the road. The woman miraculously gets up unharmed and disappears, but soon afterward, Lucinda starts incorporating her fears into her current romantic relationship. In an effort to restore their romantic lives to a more exciting plane, Lucinda begins creating small conflicts on the advice of friend Drosophila (Willa O'Neill), hoping for instant results. One night, however, Rob and Lucinda are robbed by a Maori group, later revealed to be the nephews of the woman stricken in the car accident. The group steals a quilt, which Lucinda barters 117 of Rob's farm cows to get back. Meanwhile, Drosophila has attempted to steal Rob for herself, and Lucinda's plans turn out to work against her. Director Sinclair reportedly developed the story as an outline, with many elements devised as the film progressed during shooting.
Critic Reviews for The Price of Milk
Audience Reviews for The Price of Milk
I watched this for Karl Urban, straight up. This was weird in a bad way but also a little charming... I just didn't like how the woman went from normal to crazy-bitch and then back again. I also liked Karl Urban's lack of voice when he's upset.
Jenna Ipcar
½
Cute absurdist New Zealand fairy tale, about a woman who doubts her husband to be loves her, and tries to ruin his life in various ways to prove he does. Theres a magical grandmother, who steals all the quilts in the county because shes cold, and an agoraphobic dog who walks around with a box over him at all times. Alot of whimsicle, kinda funny moments that dont make much sense. There were some innovative moments, for a no-budget movie like this, the scene where the house seems to follow Rob, as he walks away stands out. I dont usually care for romantic comedies, but this was nice enough. It's unique and pleasant.
Joseph Sylvers
The cinematography and music are beautiful. A truly beautiful film - a bit creeptastic too! This still hasn't shown me if Karl Urban can act or not.
Starr Nguyen
The Price of Milk Quotes
There are no approved quotes yet for this movie.
Discussion Forum
Discuss The Price of Milk on our Movie forum!