Prince Valiant
(1997)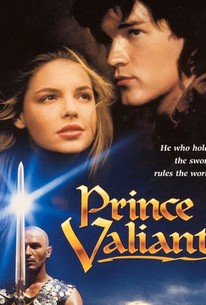 AUDIENCE SCORE
Critic Consensus: No consensus yet.
Movie Info
In this drama based on Hal Foster's long-running comic strip, Prince Valiant and his cohorts engage in medieval adventure and romance. ~ Sandra Brennan, Rovi
Critic Reviews for Prince Valiant
There are no critic reviews yet for Prince Valiant. Keep checking Rotten Tomatoes for updates!
Audience Reviews for Prince Valiant
Where is Mystery Science Theatre when you need it. One star because the actors were breathing and the costumes were kinda cool. In my own defense, this came on after another movie, I'm working and the remote isn't near me. Then I was glued to it to see if it would become atrocious or just stay really bad. It ended up being really, really bad but not atrocious.
Barbara Collins
½
Anthony Hickox's comic adaptation is surprisingly great. Based on Hal Foster's long running series, this sumptuous tale is sure to tickle the fancy of fantasy-adventure cinephiles. The cinematography by Roger Lanser is stunning. Lots of wide angles to showoff the gorgeous landscape, to great effect. The colors burst off the screen, and are very comic-esque. The long takes establish the geography well, and it makes for an interesting juxtaposition to the more claustrophobic, indoor scenes. Stephen Moyer stars as the titular character with an unknown past. He makes for a dashing lead, and is easily likable. In the action scenes, he is believable and looks just tough enough to be able to hold his own. Katherine Heigl is Princess Ilene, the female lead/ love interest. Even at 19, her charm is on display. Moyer and her chemistry is strong, making their romance, which starts as a strong, obvious longing to something more substantial as they grow closer during their quest. As Erik The Old, Walter Gotell, in his final role is very good. Anthony Hickox himself has nice role as Sir Gwain, whom Valiant is a squire. I didn't know it was him, and he was noble and daring, just as he should have been. Edward Fox makes a strong, decisive Arthur, even more refined and imposing. Ron Perlman shows up as a giant that knows more than he lets on, and man, I love me some Perlman. He's having lots of fun, and is used well. Warwick Davis shows up near the end, and livens up everything. He's such a joy to watch, and makes an already pulp-comic even more fun. Udo Kier is the main villain, Sligon, whom steals Excalibur to take over the world. Kier is (almost) always fun to watch, and he's uber-creepy here, making for a delicious, slightly over-the-top (in a good way) bad guy. Joanna Lumley, so brilliant on "Absolutely Fabulous", is the witch Morgan Le Fey, Arthur's half-sister. She's a lot of fun, relishing the chance to play such a different character. The action is well done, and exciting. The swordplay is very real, and it doesn't feel choreographed. The larger scale battles are easy to follow and have a nice flow to them. The detail in the armor and costumes are incredible, and it helps to enrich the world and make it much more believable. Hickox's style is in abundance here, and damn, it's some style. Aside from the already mentioned things, like good action and all, he uses comic transitions, using artwork directly out of the comic strip. A year before what many consider the film to usher in this comic saturated movie culture we are now in (Blade), this was doing similar things, and is unjustly overlooked. But aside from the cool transitional sequences, Hickox employs a lot of camera tricks, forced perspective, and playing with what we can't see just offscreen. All that adds a nice layer of fun, and it reinforces the more supernatural elements. This was an amazing surprise, that moves quickly, is rousing, had solid special effects, and good acting. An overlooked gem that helped usher in the current comic craze and deserves better than it's getting.
Bobby LePire
½
Complete cheese! If you wnat soemthing cheesy (and I mean cheeser than "Xena: Warrior Princess") I suggest this film.
Shadow Lite
Prince Valiant Quotes
| | |
| --- | --- |
| Prince Valiant: | You cannot give me my soul and take away my heart! |
| | |
| --- | --- |
| Prince Valiant: | Give me strength! |
Discussion Forum
Discuss Prince Valiant on our Movie forum!