The Princess Bride
(1987)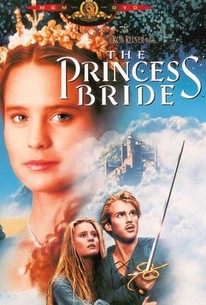 TOMATOMETER
AUDIENCE SCORE
Critic Consensus: A delightfully postmodern fairy tale, The Princess Bride is a deft, intelligent mix of swashbuckling, romance, and comedy that takes an age-old damsel-in-distress story and makes it fresh.
The Princess Bride Videos
The Princess Bride Photos
Movie Info
Robin Wright and Cary Elwes star in this fairytale adventure about a beautiful princess and the gallant hero who rescues her from an evil villain. Directed by Rob Reiner, it's an enchanting classic the whole family will love!
News & Interviews for The Princess Bride
Critic Reviews for The Princess Bride
Audience Reviews for The Princess Bride
An enchanting storybook love story that has gained the status of cult movie along the years and appeals to both youngsters and adults alike thanks to its delicious blend of exciting romantic adventure and hilarious comedy - and made even more enjoyable by a great cast.
Carlos Magalhães
Super Reviewer
You can clearly see this is a Rob Reiner film in every sense. The whole production has that silly visual humour that most would associate with Mel Brooks...although not as strong. When the film came out it had moderate success and has since gone on to be become a bit of a cult, yet I'm not entirely sure why in all honesty. Based on a novel of the same name the story is the quintessential fairytale fable. A young dashing hero who was thought to be dead must save his true love from an evil Prince in his castle. There are sidekicks, magicians, evil henchmen, knights, places of peril and the odd oversized creatures. The unique element in this rudimentary idea is the comedy factor, a combination of spoof and slapstick both verbally and visually. In short you could say this was an early live action version of the Shrek franchise but not as 'out there' with the fantasy. Every typical fairytale scenario has been slightly twisted and lampooned just enough to make it funny but not as an outright spoof. There is still a solid plot here despite the fact its predictable as hell. The other unique angle is the fact the whole film is being narrated by Columbo to Kevin Arnold in the real world, a story within a story, so you're never completely sure if things will pan out as you'd expect...(but they do). Now while I can't deny the film is a nice gentle old fashioned type of yarn it is extremely basic and largely unimpressive visually. I realise its more of a character piece than effects extravaganza but there really isn't much to soak up fantasy wise. It doesn't help me especially because some locations they filmed at the start, and the castle, are not far from my folks so it didn't give me any sense of wonder. There are some nice locations most definitely but it all looks too real if you get me, not much like a fantasy realm. The film works mainly because of the characters, well some of them. Elwes is the perfect well spoken Flynn-esque hero without a doubt, he has good comedic timing and spoofs the classical silver screen hero very well. He virtually plays this character again in that Mel Brooks Robin Hood film. Wright is the perfect blonde fairytale Princess, utterly stunning! Sarandon does the slimy evil Prince to a tee and for me the best of all was Wallace Shawn as the low down crafty 'Vizzini'. Such a shame that Shawn's character dies so early on as he's the best thing going on in the film laughs wise. There are various other famous names in here too but for me they felt forced. Peter Cook's silly clergyman lisp just fell flat on its face, Mel Smith's Albino dungeon keeper felt out of place and not particularly funny whilst Billy Crystal was clearly Billy Crystal in makeup and not in the slightest bit amusing. Had this come out now I don't think it would do too well, or any better than it did back in 87. The whole idea has been done and drained by a certain green orge plus other animated flicks. Back in the day the idea of a spoof fantasy was a bit more original but even then it didn't fare that well and I'm not really surprised. I can see how this might not have appeared very enticing to cinema goers at the time. There is little to no violence so its perfect for the younger viewer whilst adults can enjoy the soft satire. Even though this is the epitome of a true fairytale I can't really say its a rich magical experience because there isn't much of that going on. Its a pleasant cozy ride that will relax you and not put any pressure on the brain. A pure organic tale but also rather underwhelming. 'Inconceivable!!'
Phil Hubbs
Super Reviewer
What makes The Princess Bride so enjoyable is Rob Reiner's ability to send-up traditional fables without descending into acerbity. Novelist and screenwriter William Goldman brilliantly adapts his own 1973 novel of the same name. It gently pokes fun at the sentimentality of fairy tales while still genuinely capitalizing their innocence. There's a modern sensibility but it never threatens to contaminate the sincerity of the proceedings. Mandy Patinkin's declaration is the most well known, but iconic dialogue abounds. "Inconceivable!" The Cliffs of Insanity, the Pit of Despair, the Fire Swamp where the Rodents of Unusual Size (R.O.U.S.) dwell - each location highlights another hilarious set piece. You'll laugh, you'll cry, you'll cheer, you'll thrill to every recognizable line and action spectacle. Its one lone Oscar nomination for Best Original Song is a complete headscratcher today. Although it wasn't a huge hit in its day ($61.9 million in today's dollars), the film has since gone on to achieve classic status. I'll choose long term longevity to instant gratification any day. "As you wish." fastfilmreviews.com
Mark Hobin
Super Reviewer
The Princess Bride Quotes
| | |
| --- | --- |
| Westley: | There are a shortage of perfect breast in the world it be a pity to damage yours. |
| | |
| --- | --- |
| Vizzini: | I suppose you think you're brave, don't you? |
| Buttercup the Princess Bride: | Only compared to some. |
| | |
| --- | --- |
| Inigo Montoya: | Hey Fezzik, you did something right. |
| Fezzik: | I won't let it go to my head. |
| | |
| --- | --- |
| Inigo Montoya: | Hello. My name is Inigo Montoya. You killed my father. Prepare to die. |
Discussion Forum
Discuss The Princess Bride on our Movie forum!