Princess Caraboo
(1994)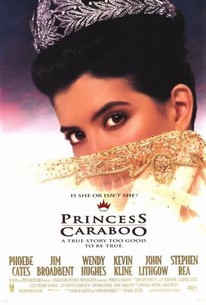 Movie Info
Loosely based on an actual incident, this family-friendly British comedy is also a sly satire of class consciousness. Phoebe Cates stars as a woman who appears in the English countryside of 1817 wearing exotic garb and speaking gibberish. Delivered to a nearby manor, the mystery woman is sheltered by the Worralls (Wendy Hughes and Jim Broadbent), who are then persuaded by their suspicious Greek butler Frixos (Kevin Kline, Cates' real-life husband) to have the drifter tried for vagrancy and begging, capital crimes. At the hearing, however, the woman persuades the magistrate through pantomime that she is a princess of Javanese origin named Caraboo, escaped from pirate kidnappers. The Worralls welcome Caraboo back into their home, lavishing upon her the deference due a royal. A society sensation, Caraboo wins over a linguist (John Lithgow), the prince regent (John Session), and even Frixos. Only an Irish reporter, Gutch (Stephen Rea), remains skeptical about Caraboo's origins.
Critic Reviews for Princess Caraboo
Audience Reviews for Princess Caraboo
An OK movie, easy to see how it fell through the cracks. There are funny moments, but I wouldn't call it a comedy, and it's too lighthearted to be considered a drama. Still, Phoebe Cates gives an admirable-enough performance, committing through most of the movie to the Caraboo persona, that is when she talks. More focus is paid to the supporting cast's bewilderment than to her actual experience as Caraboo. To that end, Jim Broadbent, Wendy Hughes, Kevin Kline & John Lithgow are amusing in how they're affected by Caraboo's presence. Kline, as always, is funny with that whipcrack delivery of his. He was underused though, and maybe mis-cast as the Greek butler. I did like Stephen Rea's performance as he transitions from journalist sniffing out an interesting story to a growing affection for this woman. It's an amusing movie, but not a particularly memorable standout in the crowd of lighthearted '90s movies.
Peter Ambrose
½
Delightful, imagined fairy tale. A study in social graces and class distinctions. Phoebe Cates is charming.
Carlos Fonseca
½
It was cute. I had been waiting for 14 years to see this one. Wasn't expecting it to be any good, but I liked it. It definitely held my attention for 90 minutes.
rae rae
Princess Caraboo Quotes
There are no approved quotes yet for this movie.
Discussion Forum
Discuss Princess Caraboo on our Movie forum!