Prison
(1988)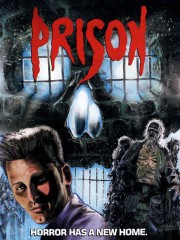 Prison Trailers & Photos
Movie Info
In this horror outing, prison inmates are terrified when the corpse of a recently killed prisoner rises up and begins hunting the guards who wrongly engineered his death.
more
Cast
News & Interviews for Prison
Critic Reviews for Prison
Audience Reviews for Prison
Harlin's first theatrical effort quickly establishes his garish stylistics choices such as a POV tracking shot to the electrical chair. It also adheres to his sound-and-fury-signifying-nothing sensibilities wherein the inmates are besieged by a barrage of loud pyrotechnics without a plausible reason since the ghost's only objective is murdering the newly appointed warden. It's all swiftly paced and tautly photographed, but the midsection is a sluggish going-through-the-motions initiation into penitentiary life such as rivalries, riots and sage advice about having "the face of a lifer". But like the 'Final Destination' movies, it's arduous to be frightened by an incorporeal Grim Reaper firing a gun turret and wrapping razor wires around a sadistic guard. 'Prison' retains Harlin's whizz-bang shepherding, but it's a vapid, spineless revenge story with corridors that imitatively resemble Freddy Krueger's boiler room.
At first I doubted that I'll enjoy this movie very much, but as it went on the movie kept on getting better and better. It's about an evil spirit trapped in a prison after his execution that wanted revenge.
I loved the elements of horror in this and the deaths very quite constructive too. Barbed wire one was my favourite.
Overall a pretty intense horror flick with a variety of characters and lots of deaths. Though I was quite confused about the connection between Viggo Mortensen's character to the evil spirit.
Discussion Forum
Discuss Prison on our Movie forum!
News & Features