Prison
(1988)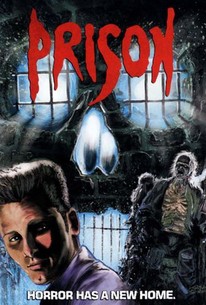 Movie Info
In this horror outing, prison inmates are terrified when the corpse of a recently killed prisoner rises up and begins hunting the guards who wrongly engineered his death.
Rating:
R (adult situations/language, violence)
Genre:
,
Directed By:
Written By:
In Theaters:
On DVD:
Runtime:
Studio:
New World Video
Critic Reviews for Prison
Audience Reviews for Prison
I don't understand how this film has gotten such a bad rap over the years, it's stood the test of time and is still shocking and emits a solid scare factor. The acting is above average for an 80's slasher film and the special effects look great. Still the story does present a few holes from time to time, who cares today it's a great cult classic that few have given the time of day.
Brandon Smith
Renny Harlin's second feature is a well made supernatural horror film that is much better than what you'd think. Sure, the film looks a bit dated nowadays, and there's been far better ghost tales than this, but in the long run, Prison is a surprising, accomplished film that is an obscured genre film that should see the light of day. The cast do a good job here, but the standout aspects of the film are the special effects, the kill sequences as the supernatural force kills prison inmates and guards alike. Renny Harlin, who has a checkered career, pulls off a good, entertaining and enjoyable ride. This is a pleasant flick to watch for horror fans that enjoy a good ghost story. Although there's never anything truly great on-screen, there are enough good bits here and there throughout the film to make it an enjoyable yarn to simply sit back and enjoy. The plot was original and it's what kept me interested in the film, unlike Kevin VanHook's Death Row, which uses basically the same premise as this movie, this is a far better film that is good gory fun. Despite its lacking acting, the film is held together by effective directing for Harlin. If you're ever looking for a fun little obscured gem of a horror tale, then pick this one out. The film is not perfect, but it has enough going for it to make it a worthwhile good time for genre fans. What makes this film good is the fact that you never see the supernatural force itself, and it leaves it up to your imagination to guess what kind of demented, evil supernatural force is terrorizing the prison. We know it's the prisoner that wants revenge, but you never see him, thus it makes for a more enjoyable viewing as it keeps you guessing till the very end.
Harlin's first theatrical effort quickly establishes his garish stylistics choices such as a POV tracking shot to the electrical chair. It also adheres to his sound-and-fury-signifying-nothing sensibilities wherein the inmates are besieged by a barrage of loud pyrotechnics without a plausible reason since the ghost's only objective is murdering the newly appointed warden. It's all swiftly paced and tautly photographed, but the midsection is a sluggish going-through-the-motions initiation into penitentiary life such as rivalries, riots and sage advice about having "the face of a lifer". But like the 'Final Destination' movies, it's arduous to be frightened by an incorporeal Grim Reaper firing a gun turret and wrapping razor wires around a sadistic guard. 'Prison' retains Harlin's whizz-bang shepherding, but it's a vapid, spineless revenge story with corridors that imitatively resemble Freddy Krueger's boiler room.
Cory Taylor
Super Reviewer
Prison Quotes
There are no approved quotes yet for this movie.