Prison on Fire
(1987)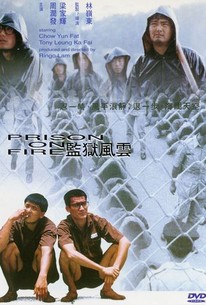 AUDIENCE SCORE
Critic Consensus: No consensus yet.
Movie Info
The Hong Kong-filmed Prison on Fire stars Tony Leung Kar-Fai as an ad-agency designer. After accidentally committing murder, Leung Kar-Fai is carted off to prison, where he befriends convicted wife-killer Chow Yun Fat. The older Yun Fat becomes Leung Kar-Fai's mentor and severest critic, but while Leung Kar-Fai benefits from his advice, Yun Fat ends up the "loser" in the scheme of things. It is likely that Prison on Fire might not have gotten American play without the presence of Chow Yun Fat, a star name by virtue of his many appearances in the films of director John Woo. Had US viewers been denied an opportunity to see the film, it would have been a shame; the picture stands up on its own merits, and would do so despite the box-office clout of its leading actor.
Critic Reviews for Prison on Fire
Audience Reviews for Prison on Fire
One of the signature movies of Hong Kong cinema from the 80s, Ringo Lam's precise direction hooks you from the very beginning. Good pacing and a great cast. There are no impossible escapes here, this is a story of loyalty and brotherhood. Essential view.
Tsubaki Sanjuro
Super Reviewer
A lot of people are scared of getting killed, but for a while it seems the main dangers are explosions of chaotic fights and police brutality, allowing for Chow Yun Fat to use comic relief. Then, you realize that people's backs can be slammed against any hard-cornered thing in sight and it makes hand-to-hand fighting seem unromantic. Great camera angles and editing around men in file.
Adam Mahler
Super Reviewer
½
This Hong Kong crime-drama prison movie is pretty powerful and believable depiction of the state of prisons in Hong Kong and how much power the triad members have there. The cast is very good in this movie and it includes Roy Cheung as the violent warden "Scarface" and Roy can also be found as a triad leader in School on Fire and a cop in City on Fire. The characters, especially Chow Yun-Fat's and Tony Leung Ka-Fai's, seem to develop little too fast as their dramatic decisions and actions are not as carefully explained and introduced as possible. I mean the scenes like "the suicide attempt" and the angry and almost comical face expression Chow gives to "Scarface" at one point; they show that these men really can act (and they can) but these kind of actions should be little more restrained and explained, but still Chow's character is here much better than in City on Fire which suffers a lot from the weak character of Chow's.
Dean McKenna
Super Reviewer
Prison on Fire Quotes
There are no approved quotes yet for this movie.