Enskilda samtal (Private Confessions) (Private Conversations)
(1999)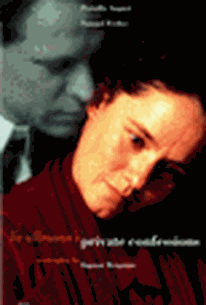 Movie Info
Originally made for television and directed by distinguished Swedish actress-turned-director Liv Ullman, this provocative drama is a sequel to director-turned-screenwriter Ingmar Bergman's autobiographical Bille August-directed drama Best Intentions (1992). Returning to their roles of Bergman's parents are actors Pernilla August and Samuel Froler; their discussions are divided into five sections that take place over several years beginning on a Sunday in July, 1925 when young Anna Bergman runs into her old friend and mentor Jacob (Max von Sydow) an aged priest. She is obviously distraught about something and soon confesses to him that she has been cheating on her husband Henrik, also a priest, with yet another man of the cloth named Tomas Egerman (Thomas Hanzon). Jacob suggests she immediately end the affair and inform her husband. Several weeks pass and Anna finally heeds Jacob's advice. When her words finally sink in, Henrik becomes angry and begins grilling her for details. Her further confessions make matters worse. The tale then flashes back to Anna's seduction of Tomas, a situation which reveals truths unspoken by Anna in her confessions. The fourth segment of the story is set several years later. Anna visits the now elderly and frail Jacob. The final discussion jumps back to 1907 when the adolescent Anna first met Jacob and this segment reveals a few more truths about the nature of her friendship with Jacob. ~ Sandra Brennan, Rovi
Critic Reviews for Enskilda samtal (Private Confessions) (Private Conversations)
Audience Reviews for Enskilda samtal (Private Confessions) (Private Conversations)
Full of deep, painful but harrowingly rewarding emotions, and a knockout performance by Pernilla August (one of those performers that does so much when seeming to do so little), and reveals Liv Ullmann as a gifted director - maybe she was the only one to direct this, as Billie August did The Best Intentions (and I may possibly, just maybe, prefer this film to Best Intentions, which this is a sequel to), since for Bergman so much is already so personal (the characters are his parents, or versions of them anyway). But every episode is wholly rewarding, and the moments of sensual tenderness between characters are underlined by how the dialog drives things so fiercly: like the best characters written by Mr. Bergman, these people, especially Anna, Henrik and Tomas, want to find the right path but get corrupted, or just screwed up, by where their hearts lead them. It may also be one of the most mature works by this writer, as the story jumps from episode to episode in time (about five 'confessions'/conversations in all, spanning many years), as we see the bulk of the action take place when Anna had her affair, the fall-out with her husband... and then ten years later (as well as when Anna was 18) when she tells to her Uncle Jacob (Max von Sydow, who is great and who could expect otherwise, especially here as a forgiving but firm minister). This jump isn't simply to be clever, far from it - we learn along with the characters, and time does change a lot of things. By the end, I looked back on the episodes on Private Confessions as meaning so much, for the drama they went through and that I saw, and even with an ending that appears to be 'happy', there is still a well of anguish that can always be tapped. When it comes to Bergman, by way of his great love and collaborator Liv Ullmann, romance is never, ever easy, especially when some sort of 'God' may be watching and judging.
Jack Gattanella
Although this is technically an Ullmann directed film, it has all the feel of Bergman that goes beyond what he provided in the written script. What we discover is how much of the real Bergman story is portayed in his films.
John Ballantine
Super Reviewer
Enskilda samtal (Private Confessions) (Private Conversations) Quotes
There are no approved quotes yet for this movie.
Discussion Forum
Discuss Enskilda samtal (Private Confessions) (Private Conversations) on our Movie forum!