Programming The Nation?
(2011)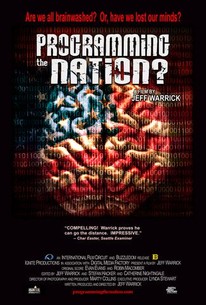 Programming The Nation? Videos
Programming The Nation? Photos
Movie Info
Programming the Nation? takes a powerful and provocative look at the history of subliminal messaging in America and the ways in which we are being manipulated subconsciously by advertisers, pop-culture, corporations, our military, and politicians. Filmmaker Jeff Warrick leads this journey through the subconscious mind while examining the reported history, scientific research and potential effects of such techniques on society. With eye-opening footage, revealing interviews (with Democracy Now's Amy Goodman, Congressman Dennis Kucinich, Rolling Stone's David Fricke, Douglas Rushkoff and Noam Chomsky, amongst many others), humorous anecdotes, and an array of visual effects, the film categorically explores the alleged usage of subliminals in advertising, music, film, television, political propaganda, military psychological operations, and even advanced weapons development. -- (C) Ignite Productions
News & Interviews for Programming The Nation?
Critic Reviews for Programming The Nation?
Audience Reviews for Programming The Nation?
This film is a great insight to the media advertising world and the possibilities of manipulation through media. What a great movie!
Sonya R
I thoroughly enjoyed this film. Kudos to Jeff Warrick for taking us on this trip! Definitely a "fresh" perspective in my book!
Lee Waterworth
½
Programming the Nation? is an enlightening little documentary exploring the nature of advertising and the media's attempt to manipulate the things we see to get us to buy the things they want us to buy. It succeeds on the strength of director Jeff Warrick's terrific cast of interviewees (including Noam Chomsky, Dennis Kucinich, and the lead singer of the band Queensryche). The film explores everything from Disney's peddling of sex to kids (remember that dust in The Lion King?) to retail chains' practice of pumping submissive chanting through their PA's to subdue potential shoplifters. It's a captivating and insightful look into how advertisers shape the world around us. And it's certainly well worth the watch.
Billy Smith
Programming The Nation? Quotes
There are no approved quotes yet for this movie.
Discussion Forum
Discuss Programming The Nation? on our Movie forum!