Prometheus Triumphant: A Fugue in the Key of Flesh
(2009)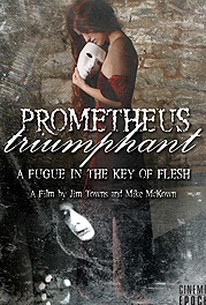 AUDIENCE SCORE
Critic Consensus: No consensus yet.
Prometheus Triumphant: A Fugue in the Key of Flesh Videos
Prometheus Triumphant: A Fugue in the Key of Flesh Photos
Movie Info
Exhibiting extreme stylization and thematic influence by the German Expressionists, this silent feature from co-directors Mike McKown and Jim Towns tells of two lovers, the gorgeous Esmeralda and her exiled paramour, Janick (Josh Ebel), whose relationship nearly comes to a bitter end when she contracts a deadly case of the plague. Mercifully, Janick discovers a cure in the last waning moments and attempts to save her life. Towns and McKown employ title cards in the manner of early-20th century silent films; Lucien Desar composed the score.
Rating:
NR
Genre:
, ,
Directed By:
Written By:
In Theaters:
On DVD:
Runtime:
Studio:
Cinema Epoch
Critic Reviews for Prometheus Triumphant: A Fugue in the Key of Flesh
All Critics (3) | Top Critics (2) | Fresh (2) | Rotten (1)
Jim Towns and Mike McKown's Prometheus Triumphant: A Fugue in the Key of Flesh is an admirably ambitious homage to the pure emotional power of the classic silent cinema.
Los Angeles Times
Top Critic
Prometheus Triumphant sets lofty goals for itself but fails to find an original entry point or live up to its objectives.
The film's overall style wants more than Janick's quest to reanimate one woman - an entire world seems doomed, if only Town's scenario could show it.
Audience Reviews for Prometheus Triumphant: A Fugue in the Key of Flesh
A mad doctor reanimates his love who died of the plague in an unspecified medieval time and place in this modern silent movie mixing the plots of FRANKENSTEIN and PHANTOM OF THE OPERA. Boring as hell, and with its mundane camerawork, unevocative Pittsburgh locations, anachroinisms and misspelled intertitles, it's a virtual insult to its classic Expressionist inspirations. This is what all bad movies made by film school dropouts would look like if sound and color film stock had never been invented. Avoid.
2009 US Director: Mike McKown and Jim Towns Score: 8 Shot on (as I understand it) an extremely low budget around industrial sites and an abandoned asylum (which has since been demolished) in Western Pennsylvania, this film does an excellent job of re-creating the silent era of moving picture entertainment. Shot between 2003 and 2005 on digital video, it captures the look of the classic silent era films amazingly. I have no doubt that some, maybe many, will shrug their shoulders at that and ask "who cares?" That's fine. I can only speak for myself. I thought this is an outstanding production that recreates the roots of cinema. This is a retelling of the Frankenstein story, and not a bad version of it. The effects, and I include those used to make this digital footage look like an old monochrome silent film, are very good, especially considering the budget this film had to work with. The acting is pretty good. I know this can be deceiving in a silent film, in fact that was one advantage actors had in the silent era. Even if they sucked at delivering their lines, who would know? It was up to us, the audience who reads the lines, to use our own heads to add the emotions and inflections into the lines. So for all I know these actors were a bunch of cheese meisters. In this film, they appeared to do just fine however. Since it is a silent film, the soundtrack was a key element. It has to really help convey the emotions and tensions of the scene. This one does a fairly good job at this. One bit of trivia I read on this film was that the woman who played the main character Esmerelda, Kelly I. Lynn, completely disappeared before the film was fully shot. Apparently to this day they have no idea where she went or if she is still alive. A body double was used for the few scenes she had left to be shot. Strange. Real horror genre fans should give this one a viewing since it is an excellent homage to the very roots of the genre. Anyone looking for "something different" as far as movie viewing should it interesting as well. Notes: HV-N Suggested Age: 16+
Todd S
Prometheus Triumphant: A Fugue in the Key of Flesh Quotes
There are no approved quotes yet for this movie.