Protektor
(2011)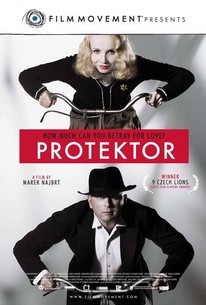 Movie Info
1938, Prague. Emil, a radio reporter, is married to the beautiful Hana, an actress whose new film has catapulted her into fame. As the Nazis come to power, however, Hana's Jewish heritage precipitates her fall from stardom to the bottom of the social ladder. In order to protect her, Emil compromises himself collaborating with the new Nazi-controlled state radio station. But as Emil starts enjoying the attention and respect that had previously evaded him, his fidelity and loyalty towards his wife begin to falter. The assassination of the Third Reich Deputy Protector and a chance encounter on a bicycle bring their lingering marriage to a crisis, possibly sealing Hana's fate. -- (C) Film Movement
Critic Reviews for Protektor
Audience Reviews for Protektor
Stylish film about a Jewish actress who must go into hiding in Nazi occupied Prague in the 30s and her husband, a radio journalist, who gains prominence as a spokesman for the occupiers. Their fortunes, prominence and notoriety reverse; she bridles at her confinement and obscurity, he thrives in the limelight. And then ...
Michael Harbour
It's World War II. The Nazis are evil. And this Jewish housewife is... bored because her husband won't let her go outside. Somehow I expected more.
Mike Boas
Welcome addition to pantheon of Holocaust-themed films *** This review may contain spoilers *** It's 1938 and the Nazis are just one step away from invading and occupying Czechoslovakia. Hana is a young Czech film actress who also happens to be Jewish. She's just appeared in her first feature with her leading man, an older Jewish actor, who warns her that her career is over and that their picture will never see the light of day since the Nazis will never allow its release. He hands her a forged passport and papers to get out of the country but she throws them in the trash, not believing what he says about the imminent German invasion one bit. As the filming of the 'film within a film' is on the verge of completion, we see the two actors riding stationery bicycles with a moving image in the background. As was the usual practice in creating films in earlier days, the illusion of motion is created when the moving image flickers in the background but the object in the foreground is static. Thus, the bicyclist becomes a symbol for the man who pedals furiously but is actually going nowhere. That man is the Czech everyman of 1938 who desperately wishes to escape his tragic circumstances but in reality remains motionless, trapped by the forces of tyranny. Throughout the film, we catch glimpses of the film's protagonist, Emil, pedaling furiously, superimposed over the screen's larger canvas. Hana is married to Emil, a journalist, who is conscripted by collaborating Czech officials, to serve as a radio announcer for the occupying German forces. A colleague at the radio station, Franta, won't keep quiet and he's taken away presumably by the Gestapo and later executed. Emil, no hard core collaborator, chooses to accept the job working as the mouthpiece for the Nazis in order to save his wife from being deported to the death camps. Emil's boss at the radio station is a Nazi sympathizer who offers him the job with the agreement that no one will bother him about his wife as long as she remains holed up in their apartment. Soon, Emil has become popular hosting a cultural program in Prague entitled, "Voices of Our Home". Meanwhile Hana becomes bored sitting at home and jeopardizes Emil's position by leaving their apartment, usually attending the cinema. Hana is not depicted as one who is to be pitied?rather, she's a narcissist who refuses to accept her position as a Jew in Nazi-occupied Czechoslovakia as well as living under the illusion that she's someone important--the up-and-coming film star that she used to be. Emil begins having an affair with a former colleague at the station who is now engaged to his boss. Meanwhile Hana starts hanging out with a former medical student and now a morphine-addicted projectionist. He wants to go to bed with her but she resists his advances, eventually allowing him, however, to take pictures of her in the nude. At this point in the film, things slow down considerably since Hana is no longer talking to Emil with the conflict between the two principals, grinding to a halt. The plot picks up when Hana's former co-star shows up at their apartment having just escaped from a death transport (it's revealed that his forged papers were discovered and he never made it out of Czechoslovakia). Emil is horrified that Hana allows him to take a bath in the apartment and throws him out on the street. Enraged at Emil for throwing her ex-colleague out, Hana dons her blond wig and adopts the persona of her character from her movie and crashes Emil's boss's wedding. Emil is on the verge of being fired for his 'transgression' when Reich Protector Heydrich is murdered by Czech partisans. Nazi soldiers do a house to house search and discover Hana is in the apartment. When they realize who Emil is, they take no action against Hana, despite the fact that the soldiers know she's Jewish. Later the Nazis broadcast a description of a bicycle used by one of the partisans who's killed Heydrich. Emil has another affair with a ditsy gossip columnist and takes her family's bicycle back to his apartment and attempts to hide it; this leads Hana to believe that Emil has switched sides and is now helping the partisans. Now Emil's boss orders him to prove his loyalty by reading a loyalty oath over the airwaves after the Heydrich assassination places all Czech citizens in jeopardy. Meanwhile, Hana has come down to earth after she escapes arrest during the house-to-house search. She packs her belongings and turns herself into the authorities. Emil decides not to show up at the broadcast to read the loyalty oath and goes looking for Hana. In the final scene, Emil finds her in a crowd of Jews being marched to the death transports; as he stands impassively, preventing the group from marching forward, Nazi soldiers club him in the head push him off to the side of the road. Why does Emil choose to stop collaborating and not read the loyalty oath as he promised his hard core Nazi boss? The way I interpret it is that despite being estranged from his wife he still was devoted to protecting her (perhaps deep down he still loved her). Now with his wife gone, he feels that his career is no longer important and no longer sees any point in helping his oppressors. 'Protector' does a fine job of depicting how the Czechs coped with the Nazi occupation of their country during World War II. The filmmakers do not seek to judge those who collaborated; their view is only 'this is how it happened'. The film ably draws a distinction between those who enthusiastically collaborated (as in the case of Emil's boss) and Emil himself, who was much more of a reluctant collaborator (always placing himself in jeopardy in an effort to protect his Jewish wife). "Protector" is a welcome addition to the pantheon of Holocaust-themed films.
Lewis Papier
Protektor Quotes
There are no approved quotes yet for this movie.
Discussion Forum
Discuss Protektor on our Movie forum!