Providence
(1977)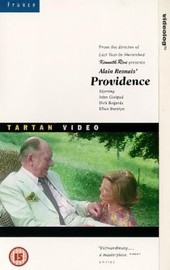 Movie Info
The first English-language film from Alain Resnais, this drama about a spiteful, alcoholic novelist contains the French director's typically playful surrealist touches and recurring use of characters shackled by memory. John Gielgud stars as Clive Langham, a drunken author in failing health who spends an increasingly intoxicated evening at his Rhode Island estate working on his new novel. Clive bases the characters in the melodramatic story on his own family, including his two sons, Claude (Dirk Bogarde) and the illegitimate Kevin (David Warner), as well as Claude's wife Sonia (Ellen Burstyn). Imagining a bitter love triangle full of spite between the three protagonists of his tale, Clive uses generous doses of imagination and symbolism, including a discordant soccer player (Denis Lawson) related to Kevin and werewolves. When his real-life family appears for a meal with Clive, however, they are not quite the embittered, devious players in the author's booze-fueled fiction. Although dividing critics between those delighted with Resnais' comic flourishes and others annoyed by his arty pretensions, Providence (1977) swept the Cesar Awards, France's Oscar equivalent, winning seven including Best Director for Resnais. ~ Karl Williams, Rovi
more
Cast
News & Interviews for Providence
Critic Reviews for Providence
Audience Reviews for Providence
Stella Dallas
Super Reviewer
Struggling to finish his last novel before cancer finishes him, Clive Langham (John Gielgud), a celebrated writer, concocts an elaborate and spiteful fantasy featuring the members of his immediate family. Where to begin... Both in form and content, this has to be one of the most forbiddingly complex movies I have ever seen! Make no mistake, this is a difficult piece of work, and I won't pretend to have fully digested it after just a single viewing. I'm fumbling in the dark here but I'll try my best...

Punctuated by false starts, digressions and revisions, Langham's dreams - which begin as an impotent revenge on his disapproving son (Dirk Bogarde) - are every bit as restless as the ailing author himself, whose spasms of pain seem to manifest themselves as sinister incidental details: an old man collapses in the street, people are rounded up by the military, we see glimpses of concentration camps and there are ominous rumblings of terrorism in the distance. The most startling moment, in a film filled with surprises, comes when we finally get to meet Langham's relatives outside the confines of his imagination, roughly 3/4 of the way through the film; they bear little or no resemblance to the people Langham has introduced us to! This is surely the major theme of the movie: the extent to which Langham's perception of his family has been distorted by pain, guilt and alcohol.

My two criticisms of the movie are as follows: 1) Whereas in a film like Céline and Julie Go Boating there is an infectious joy to all the formal experimentation, because the subject matter of Resnais' movie is so dark, Providence manages to be playful without ever being much fun. 2) The scatological vein of humour running through the film undermines much of the sophistication. Bogarde and, especially, Gielgud are brilliant. Miklós Rózsa contributes a gorgeous, darkly romantic score.
New Wave icon Alain Resnais continues to test his audience with the marvelous "Providence," a surreal tale in which a dying, cantankerous novelist (John Gielgud, never better) uses people from his life as placeholders to map out an unfinished book. The bulk of the film's action is taken straight from the writer's head and thus is pure fantasy. As if Gielgud's presence isn't impressive enough, the cast is loaded with other world-class talents such as Dirk Bogarde (dark and testy as ever), Ellen Burstyn, Elaine Stritch and David Warner. Warner does seem somewhat miscast, mainly seen as a guileless naif -- it's best to view this performance alongside early roles like "Morgan: A Suitable Case of Treatment" and "Work Is a 4-Letter Word" and forget all the sadistic villains he played later.

The internal story is primarily a love triangle in which Burstyn cheats on husband Bogarde with Warner. There's also a bizarre, undeveloped werewolf motif that hopefully was deleted from the book's final draft (this is a work in progress, after all). "Providence" is a delightful brainteaser -- just do your best to ignore how grating the characters' incessant wine-slurping becomes.
Discussion Forum
Discuss Providence on our Movie forum!
News & Features