Psycho Beach Party
(2000)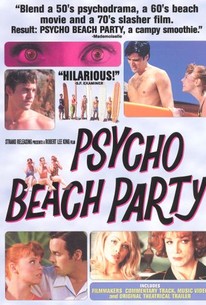 Psycho Beach Party Photos
Movie Info
Shaking bikinis, muscled surfers, a wanna-be surf babe with a split personality, a mom with an agenda, and a few severed body parts are just some of the problems facing Captain Monica Stark when she is called to investigate a recent rash of gory Malibu murders.
People Who Like this movie also like
Critic Reviews for Psycho Beach Party
Audience Reviews for Psycho Beach Party
Surprisingly good. Kitschy fun with a good cast, some of whom you don't see around much these days.
Nicki Marie
Super Reviewer
½
The only reason I watched this is because it is Amy Adams' second film. I didn't expect much, but it was more enjoyable than I thought. This film is nothing special, but it has a level of sillyness and appeal that will keep you entertained. The acting is not great, but the humor and crude remarks are enough to keep the interest. Not a film I'd recommend to everyone, but if you love Amy Adams as I do, it's worth a watch. She has a small role, but she's so great and funny.
Jameson Worley
Super Reviewer
½
"There is so much ugliness in the world. Can't there be anyone who is utterly perfect?" What an odd combination of a slasher, dance numbers, surfing, cross-dressing, split-personalities, a murder mystery, and campy humor. I only chose to see Psycho Beach Party because of the presence of a young Amy Adams, who I will watch absolutely any movie for. Without her, I wouldn't have had much of a reason to finish this. I love campy, cult movies, but Psycho Beach Party didn't particularly amuse me. It wasn't bad, but this movie is really only worth seeing if you're a fan of the cast (which includes Lauren Ambrose, Thomas Gibson, and Kathleen Robertson), and for the cheesy, awesome ending. Watch the trailer, it should give you an excellent idea of whether this is for you.
Psycho Beach Party Quotes
There are no approved quotes yet for this movie.