Psycho Cop
(1988)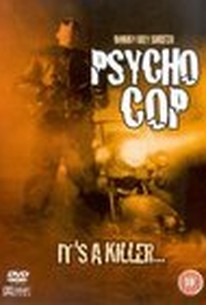 AUDIENCE SCORE
Critic Consensus: No consensus yet.
Movie Info
In this slice-n-dicer a sextet of college kids attempt to survive when they are set upon by a wacked-out, blood-thirsty police officer.
Rating:
R
Genre:
Directed By:
Runtime:
Studio:
Smoking Gun Pictures
Audience Reviews for Psycho Cop
½
A satan worshipping cop with 666 tatooed on his hand,A girl obsessed with her brush,A guy who always wants to go outside & a chunky yellow walkman (Anybody remember those?) File this 1 under The So Bad Its Good Category
Brody Manson
Super Reviewer
A Jekyll and Hyde type of slasher film in that on hand, we have an incredibly dull cast of 6 ignoramuses completely destroying the film with their dull acting as 6 youths out to spend some time at a high class house in the middle of the woods. On the other hand lies true cinematic greatness in the form of Officer Joe Vickers (played deliriously and with great 80's humor by Bobby Ray Schaffer) who is a satanic psychopathic cop that can dissolve and reappear ANYWHERE he wants to in this entire fucking film. When the killing and pun-tastic one-liners start happening, this film is amazing, but getting to that point is like pulling teeth. That part of the movie should have been called The Case of the Missing Shit, because, LITERALLY, all that was happening was cast members missing shit; shoes, toothbrush, purse, beers, soup, hair brush; it never fucking ended....that is, until Officer Vickers started ending people! This film is hilariously bad, but totally worth watching. Fair warning though, the sequel, Psycho Cop Returns, is far superior, far funnier, and far more violent than this film.
Jason Duron
Hilariously bad but bad in a good way. I really enjoyed it. I liked it a little better than Psycho Cop Returns mainly because a bunch of young dumbasses get maimed. I didn't care about any of the characters except for Joe Vickers, of course. They were all the same person to me. Watch out for Zack the trickster & his rock hard abs. Joe's one-liners were delivered with that Bobby Ray charm. I laughed. I also laughed every time he did his "Ha ha ha ho ho ho" laugh. I like how every other sentence is a mention of the Kato Kaelin caretaker, who took an axe to the head early in the film. It lacked gore. I actually think the horribly edited version of Psycho Cop Returns had more gore in it. Still, this movie was gold in the form of a wheel of cheese. I loved Joe's Bennettesque "death" at the hands of Dougie, who must've been a javelin throwing champion to make a tree branch go through Joe's chest. "Have a heart."
Christopher Stevens
Psycho Cop Quotes
There are no approved quotes yet for this movie.