Psychomania
(1971)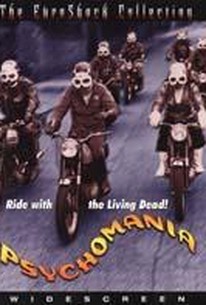 Movie Info
An annoying devil-worshipping British biker gang calling themselves "The Living Dead" decide to take their moniker to heart when their leader commits suicide and is brought back from the dead in an occult ritual, thanks to a Satanic pact. Realizing that becoming zombies could be even more fun than the usual day-to-day hell-raising, most of the gang follow suit -- throwing themselves off buildings, into traffic, walls, etc. Without the annoyance of death to contend with, the Living Dead become even more obnoxious than usual, leading to a pat solution from their leader's peeved mother (Beryl Reid). Outrageously dated and featuring loads of unintentional laughs, this is still the finest movie ever made about British zombie biker gangs and features the stately Reid turning into a giant frog. ~ Cavett Binion, Rovi
Critic Reviews for Psychomania
All Critics (5) | Fresh (4) | Rotten (1)
Psychomania... is a collision of mythology and modernism, in which the spirit of rebellious anarchy is both celebrated and ultimately, eerily punished.

Hammer films veteran Don Sharp is saddled with a silly script and an odd fit... and can't decide whether to play the goofy script straight or for gallows humor.

The oddball biker/zombie flick caught my fancy even if it hardly made sense.

Ozus' World Movie Reviews
Audience Reviews for Psychomania
½
Everybody dies. Some come back. A biker gang is led by a rich gang leader from an eccentric family. The gang leader's mother studies black magic and tells him how to return from the dead. The biker kills himself and does indeed return from the dead and appears invincible. He tells his gang members about his feat. They follow in his footsteps and begin returning from the dead. Can the gang leader talk his girlfriend into being the final gang member to execute his plan? And once they are all dead, how can they be stopped? "Should we let him go?" "No. Teach him a lesson." Don Sharp, director of The Professionals, The Kiss of the Vampire, Curse of the Fly, The Face of Fu Manchu, What Waits Below, and Tears in the Rain, delivers Psychomania. The storyline for this film is definitely interesting and I loved the death scenes. The concept was very original but the acting was fairly mediocre. The cast includes Nicky Henson, Mary Larkin, Ann Michelle, and Roy Holder. "If we kill you, you'll never come back." I DVR'd this picture off Turner Classic Movies (TCM) this Halloween season based on the fascinating plot. The premise of this picture is interesting and well delivered and I did thoroughly enjoy the movie; however, the film ends in an anticlimactic fashion and felt like kind of a copout. Overall, I definitely recommend seeing this film as it has several unique elements similar to Death Race 2000. "If you're afraid, we won't think less of you." Grade: B-
Kevin Robbins
½
For a film about zombie bikers, this is surprisingly well-made. Solid acting and direction, plus a good acid-rock score. A most satisfying climax, too. This was far less campy than I expected.
Eric Broome
Super Reviewer
This was actually better than it had any right to be, despite its flaws. It's a rather hoaky British horror affair that could stand in line with Amicus and Hammer, style-wise. Very enjoyable if you're in the right frame of mind, it made me laugh out loud at times with its use of black humour and ridiculous storyline. There are also some great sequences in the movie that give it a creepy edge. If you can track down a copy of this, please do, as it is an undervalued and pretty much forgotten piece of British cinema that somehow made its way to the states in the early 70's.
Tim Salmons
Super Reviewer
Psychomania Quotes
There are no approved quotes yet for this movie.
Discussion Forum
Discuss Psychomania on our Movie forum!