Psyclops
(2002)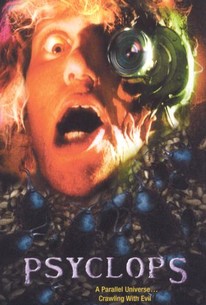 AUDIENCE SCORE
Critic Consensus: No consensus yet.
Movie Info
In this sci-fi thriller, Shep Franco (Dan Merriman) views an ancient "videotape" he discovers and learns that a nutty scientist has invented a machine that crosses dimensions. With the help of his friends, he finds this machine and restores it. But something goes awry, and Shep's transformed into a technological Frankenstein -- half man, half video recorder -- and he must be stopped before destruction reigns. Elizabeth Hurley co-stars.
Rating:
R
Genre:
,
In Theaters:
On DVD:
Runtime:
Studio:
MTI Home Video
Critic Reviews for Psyclops
There are no critic reviews yet for Psyclops. Keep checking Rotten Tomatoes for updates!
Audience Reviews for Psyclops
In another entry from low-budget, cult underground director Brett Piper (Drainiac!, They Bite, Arachnia, etc), we are given Psyclops, a story that focuses on over-excited amateur filmmaker Shep (Dan Merriman) whose latest project has him filming EVERYTHING going on in his life in an effort to make the longest film ever. The film consists of making poking fun at his close group of friends, which includes his crush Diane Di Gregorio, touch chick Irene Joseph, and stud Rob Monkiewicz (a Piper regular). In order to film for so long, Shep raids the local pawn shop of all its video tapes until stumbling upon a mysterious tape (which viewers are shown at the beginning of Psyclops) concerning eccentric inventor Artemis Winthrop, whose apparently invented film and movies several decades earlier than recorded, unfortunately his invention also served as a portal to a vicious dimension where stop-motion (a fun, dated, special effect Piper loves to use in his films) bugs come out. Naturally, Shep becomes obsessed, finds the machine, opens the other dimension, releases bugs, gets taken over by them, gets his face molded to his camera and becomes a killer psycho, thus going after his friends. Zombies, titties, and witchcraft follow suit in this terribly campy, corny, yet uniquely different and inspired film. Most people won't "get" it and wind up hating it, but those who can see past low budgets and bad acting/effects will find a real charm in this film, especially those who are familiar with Brett Piper, whom I can't help but love his films. He has a real knack of making a movie in 2002 and having it look like it came out of the late 80's/early 90's. Brett Piper films are just fun experiences for me; I can't help it. Overall, Psyclops was entertaining for me.
Jason Duron
This really should have been great fun. Delicious b-movie set-up, made for cheap, and a genre film. So why then does it stink to high heaven? The lead actor is a bore, not over-the-top, not good enough to be taken seriously just boring. The rest of the cast is fairly better, with some of them hamming it up. The conceit isn't play for all it's worth either.
Bobby LePire
Super super campy and cheesy. You'll laugh your ass off. It's about a guy who's got a video camera for an eye who kills people along with zombies... yeah...
John Trifiletti
Psyclops Quotes
There are no approved quotes yet for this movie.
Discussion Forum
Discuss Psyclops on our Movie forum!