Puffball
(2008)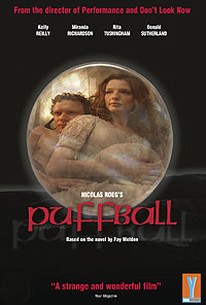 Movie Info
A young ambitious architect buys a ruined cottage to transform. But, the building, in an isolated Irish valley, has a history. And, when she finds herself unexpectedly pregnant the neighboring farmers turn against her and her unborn child and try to change the course of nature. A drama with supernatural overtones, a thriller about love, life, grief and sex, "Puffball" is an adaptation of the Fay Weldon novel of the same name.
Critic Reviews for Puffball
All Critics (5) | Top Critics (1) | Fresh (0) | Rotten (5)
Everyone in this soggy tale of maternal reproductive instincts gone berserk is wisely attired in Wellingtons at one time or another, but it can't save them from sinking in the spreading sludge.

It is part drama, part supernatural mystery, part nativity play and part horror - but somehow always less than the sum of its parts, as though Roeg cannot quite bring his generic hybrid to full term.

Audience Reviews for Puffball
Nicolas Roeg wants to touch some deep forgotten chords of the old days here, when the feel of things that go bump in the night was more than simply a yearly holiday for kids but he never latches onto the vibe and so neither do we. The shadows are there, but not fully realized, and so the things a waste by the end, before the end. Don Sutherland coasts through the film with a smile on his face that seems to imply: "I can't believe they're paying me for this shit." You'll quickly come to see his point unfortunately.
Kevin M. Williams
Super Reviewer
I'm trying to think of words to describe this movie without being disrespectful... maybe "Shitball: The Devil's Shit" Just god awful, how could you Nicholas Roeg? I trusted you. Though to be fair, I should have realized after the 6th sex scene that it wasn't going to get any better.
Jenna Ipcar
Interesting failure for fans of Roeg. His trademark visual style is all present but often incorrect - the foetal/puffball overlays look cheap and are unnecessary. The film works when it focuses on earthly realities but its supernatural leanings are woefully inept - amazing given the director's pedigree. The music is a mixed bag but at least original. Missed opportunity.
Gordon Anderson
Super Reviewer
Puffball Quotes
There are no approved quotes yet for this movie.
Discussion Forum
Discuss Puffball on our Movie forum!