Pumping Iron II: The Women
(1985)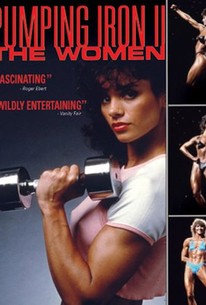 AUDIENCE SCORE
Critic Consensus: No consensus yet.
Pumping Iron II: The Women Videos
Pumping Iron II: The Women Photos
Movie Info
This video follows the preparations of a selection of female bodybuilders before the Caesar's World Cup bodybuilding competition in Las Vegas.
Critic Reviews for Pumping Iron II: The Women
All Critics (1) | Fresh (1) | Rotten (0)
An entertaining and thought provoking survey of a sport at the crossroads.

Spirituality and Practice
Audience Reviews for Pumping Iron II: The Women
(***): [img]http://images.rottentomatoes.com/images/user/icons/icon14.gif[/img] A strange and interesting "documentary".
TTT C
This is a fascinating documentary. It addresses at the time of women competing in body building competitions towards a more slim body rather than the bulky muscles that the sport had become known for and follows two competitors. Rachel McLish - the slim, feminine, socially acceptable one who tries to stick to her defined gender role within a sport which historically challenges that... and Bev Francis - the bulky, masculine one. Another interesting thing to note is the difference between this one and the first Pumping Iron. Particularly, how this one resembles softcore porn. Its as if the producers felt they had to overcompensate to make this movie more feminine and sexy so that it would appeal to a male viewership. As a result all of the women involved become objectified whether or not they are feminine enough.
Kate Caldwell
½
The beauty of feminine muscle! This depicts the origin of female bodybuilding and the sleek physiques on display are a far cry from what female bodybuilders look like today. People seem to forget that female pro-bodybuilding is a relatively recent phenomena, and this film shows it's early proponents, plus many of the confusions and emotionalistic reactions that still crop up even today. Female bodybuilding has split into 3 General camps: Bodybuilding, Figure, & Fitness. This is a result of the controversy exploited in this (biased) psuedo-documentary, namely the "How much is too much muscle" debate. Todays Figure & Fitness women look very similar to the original female bodybuilders portrayed here: sleek & toned with basic definition of the muscles. These women are in no way "monsters", as some ignorantly accused back then. On the other hand, today's female pro-bodybuilders, even compared to the largest most muscular one depicted in the film (Bev Francis) make her look small by comparison. Because of the fracture, the gloves came off. Today's Pro-Women are relatively huge, hard, dense and defined, holding no water or fat under the skin, just as their male counterparts seek to do, and they train hard & heavy. This does not make them "look like men" as those with untrained eyes reflexively spew venomously, they look just like what they are: muscular, athletic, strong, females. The same "Greek God" ideal applies to the women as does the men (The question remains, however, to look like the statue of "David", or the statue of "Hercules"). Strict dieting and cardio burns off most of the bodyfat, which tends to harden the facial lines and eliminate most breast tissue (unless the woman is genetically pre-dispositioned to have larger breasts) and this illusion is the reason for the comparison to males, but it is an illusion, nothing more. This also accounts for the high number of breast implants used today. This film, like it's big brother, the original Pumping Iron with Arnold, indulges in the same setups (good vs. bad, behind the scenes trickery, hero vs. villian, etc) to create tension and conflict, but it is up to the viewer to figure out how much is real and how much is setup here, and that requires an open mind and some intellect, and without these qualities, the viewer likely will not quite understand just what is going on here and miss the full benefit of the film. You have to get past any predjudices to actually see how beautiful these women really are. (Particularly the stunning future ex-wife of Jean Claude VanDamme, Gladys Portugese). This film remains highly recommended as a companion to the Gaines/Arnold Pumping Iron (I) and, despite the hype, has a place in history for showing the origins of the "Golden Era" of female bodybuilding, a world that no longer exists in this form. One quote from the film (By Rachel McLish, on being teased by the men) seems to sum it up for me when she retorts (paraphrase) "I never denied being a Powderpuff, but I'm a really STRONG Powderpuff!"...
Black Snake
Pumping Iron II: The Women Quotes
There are no approved quotes yet for this movie.
Discussion Forum
Discuss Pumping Iron II: The Women on our Movie forum!