Pumpkin Karver
(2006)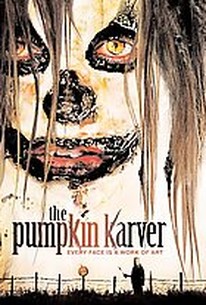 AUDIENCE SCORE
Critic Consensus: No consensus yet.
Audience Reviews for Pumpkin Karver
Another top contender in my search to find the worst film ever made. I'm really at a loss. I was really just praying that every single one of these tools would get butchered so the movie would be over and I could change the channel. Some of the worst acting I have ever seen. No joke. The plot and writing are worse. What takes it from awful to horrific is that its not even entertaining. Crappy horror movies often sacrifice realism and plot for mind-numbing gore and action, which will at least keep you entertained. This movie is boring as hell until the last 15 minutes. The only couple decent things I can say is 1) Minka Kelly is hot as hell. She can't act, but I don't mind looking at her. 2) One scene towards the end that involves a decapitated man peeing in his own face 3) Its gratifying to suffer through the movie, and finally see all the annoying characters get slaughtered. Stay away. I can not stress this enough.
Julian Toepfer
½
pumpkin karver is a film that is played on the sci=fi channel and is really bad. the plot is really bad and the acting is just as bad, possibly worse. it tries too hard to be scary and mix in laughs. i'll admit, the beginning of the film i felt there was a lot of potential, but watching the whole thing it didn't make that much sense and its not scary at all. its very predictable once the film starts going and there isn't enough blood to keep you entertained. a dumb and pointless movie.
Adrian Fylonenko
This movie was horrific. And not because of the fact that it's a horror movie. I admit, the beginning started out well. But as the movie went on it began to get very preictable. Bad acting. Boring scenes. It was just a big mess.
Nikki Hamilton
Pumpkin Karver Quotes
There are no approved quotes yet for this movie.
Discussion Forum
Discuss Pumpkin Karver on our Movie forum!