Punks
(2001)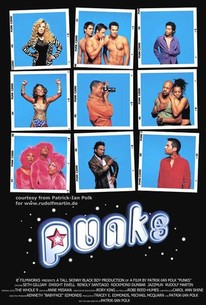 Movie Info
The never-ending search for Mr. Right takes a surprise detour into totally unexplored territory with PUNKS. This sparkling, rhythm-and-blues-driven romantic comedy is the story of four close-knit friends trying to find that mythical relationship that will make finally make things right. But if you think that sounds familiar, think again, because PUNKS is the first-ever comic love story set amidst the world of African-American gay men.

The four best friends in PUNKS are each doing their best to make it in LA: they're successful, handsome, smart . . . and smarting from the battles of finding love in such a small and isolated world. Marcus (Seth Gilliam) is a fashion photographer and quiet romantic, who seems to have everything he could ever want . . . except that elusive lover who is also your best friend. Handsome Hill (Dwight Ewell) is on the revenge rebound after discovering his European boyfriend getting a little too French with a guest at his birthday party. Meanwhile, female impersonator Chris (Jazzmun) has a boyfriend so secret everyone believes he's imaginary. And then there's Dante (Renoly Santiago), the youngest of them all, a Latino rich kid from Beverly Hills, who still sees life as one long evening out.

As they work, party, dish and date, this alternately suave and salty-tongued quartet begins to come-of-age romantically. It all begins when Marcus gets a new West Hollywood neighbor: the drop-dead gorgeous but supposedly straight music producer Darby (Rockmond Dunbar) who keeps sending Marcus mixed signals, despite his serious girlfriend (Vanessa Wililams). Is Darby or isn't he becomes a secondary question as Marcus discovers it's not just about the love he's waiting for but about the love he has created among his remarkable friends.

With heart and pizzazz, PUNKS breaks new ground for both gay and African-American cinema. But more than that, it's an exciting new riff on the plea to live life to it's fullest, to love as hard as you can, to be true to oneself and to take revenge on the blues by resurrecting the spirit.

PUNKS is an Urbanworld Films presentation of a film written and directed by Patrik-Ian Polk, starring Seth Gilliam, Dwight Ewell, Rockmond Dunbar, Jazzmun, Renoly Santiago, Vanessa Williams and Loretta Devine. The film is produced by Tracy E. Edmonds, Michael McQuarn and Patrik-Ian Polk. Executive producers are Kenneth "Babyface" Edmonds and Stacy Spikes.

Just as recent hit movies such as "Waiting to Exhale" have opened up the world of African-American romance to all movie audiences, now PUNKS takes that a step further, chronicling the romantic reality between African-American men. While the style and vernacular of this culture might be unique, their struggles - with love, friendships, money and making life meaningful - are absolutely universal.

This was writer/director Patrik-Ian Polk's ambitious mission from the outset - to irreverently and honestly reveal the truth about black, gay men while also underlining the ways in which their struggles for love are as funny, dramatic and fascinating as any. "This movie was always intended to be the definitive depiction of the gay, black experience," Polk forthrightly states. "But it's also about characters who are going through things we all go through, gay, straight, bisexual, black, white, whatever. We all live and love."

Polk wrote the screenplay for PUNKS during eight intense days and nights, setting his story in West Hollywood, the high-rent heart of Los Angeles' gay scene. He fashioned four characters based on his own sharp, fresh observations of real black, gay men - who are known in local slang as "punks" -- trying to make it in this world. With this quartet, Polk set out to capture the hilarious, gritty, no-holds-barred ways real people talk in bars, at cafes and when on the couch dishing over new starts and breakups with their very best friends - and to get the audience to root for each man to ultimately win his fair share of loving. -- © 2001 Urbanworld Films
Audience Reviews for Punks
Will someone please tell he how i can get a copy of this movie? i've been looking all over but haven't been able to put my hands on it.
OTHA JETT
Punks Quotes
There are no approved quotes yet for this movie.
Discussion Forum
Discuss Punks on our Movie forum!