Puppet Master V (Puppet Master 5: The Final Chapter)
(1994)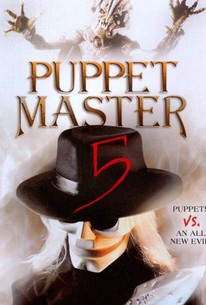 AUDIENCE SCORE
Critic Consensus: No consensus yet.
Movie Info
Leatherface: The Texas Chainsaw Massacre III director Jeff Burr takes the helm for this installment of the enduring puppet horror series concerning a greedy doctor who seeks exploit Puppet Master Rick's magic for his own gain. Dr. Jennings has a diabolical plan to make a mint by selling Blade and friends to the military for use as weapons. Meanwhile, as Dr. Jennings breaks into the Bodega Inn to steal the puppets, malevolent pharaoh Sutec sends his evil puppet Totem on a mission to dispatch Puppet Master Rick and harness the power his magic. With the evil doctor closing in from one side and Totem gaining ground on the other, Blade, Jester, Torch, Six-Shooter, Pinhead, and Tunneler race to resurrect Decapitron in order to save their master, and prevent his magic from falling into the wrong hands.
News & Interviews for Puppet Master V (Puppet Master 5: The Final Chapter)
Critic Reviews for Puppet Master V (Puppet Master 5: The Final Chapter)
Audience Reviews for Puppet Master V (Puppet Master 5: The Final Chapter)
This is a direct sequel to the fourth film and by the looks of things it may have been made back to back with the fourth film. Obviously this film was a little short with its run time as we are given a rather long-ish prologue at the start to explain virtually the entire story from the previous film *groan*. Basically there are suits and thugs after 'Toulon's' secret, 'Sutekh' is back and pissed off so he puts his own life essence into another 'Totem' and the plucky teen duo are back to try and save the day by stopping 'Sutekh' with the help of the puppets. The plot takes it time to get moving with this one and you wonder if anything will actually happen. Sure enough we are back in the creepy old hotel with puppets and hell spawns running amok. The puppets are again on the friendly bandwagon as they again help their new master (plucky teen male) and fight 'Sutekh' the demon in 'Totem' form. Along the way are three thugs and a suit who want 'Toulon's' secret but we all know they are there for puppet/Totem fodder. This film was suppose to be the last one and it does show as the idea is tiring fast. The whole film is almost the same as the fourth film to be honest, nothing new really. Action, puppet fighting and outcome are a bit too similar. On the plus side the continuity stands firm with Gordon Currie reprising his main role from the third film as the puppets new master. Guy Rolfe is also still here as the spirit of 'Toulon' and the two female characters 'Suzie' and 'Lauren' are also played by the same actresses from the fourth film. This fifth film does also manage a few well known character actors in the form of Willard E. Pugh, Ian Ogilvy, Nicholas Guest and Duane Whitaker. A fair crack at the whip but the whole idea, setting, atmosphere, tone etc...is becoming old hat now. The franchise had to either stop here or try another direction.
Phil Hubbs
Super Reviewer
For a supposed final film, The Final Chapter is a mess that lacks anything to truly engage the viewer. I know that this series meant to be tongue in cheek, but really there are better films in the genre considering. There really couldn't be anything to peak your interest in this one, this film suffers from everything which made the sequels so tiresome. The film is poorly done. Again, we have a film which has decent ideas, but they never really come to fruition. The film bad, and has nothing to truly entertain you. If you're hoping to an end to this series, you'll be sad to know that The Final Chapter is not the end. How can the studio keep these awful films coming, you ask? I really can't answer that, but it's always the same, to milk out a series to the fullest until it really has nothing left to give. With this fifth entry, you realize that there are no more decent ideas for films. Everything that would have made an interest film is not present here, and it's simply a waste of celluloid. There's simply nothing to works here to elevate this film to a memorable or good status. This is a film that is dull, boring and poorly done. With every sequel the studio puts out for this series, every film fails to be truly good entertain, and ends up falls flat right from the get go. If you think this so called final chapter is bad, wait till you watch the sequels that came after it. Either way, this should truly have been the real ending to this series that never should have existed. Puppet Master did not need ten sequels. Not the last chapter and it's a pretty bad flick.
½
Terrible. Following events of the 4th Puppet Master movie, we have more bad Totem Puppets attacking, crooks breaking into the good-puppet's haunted castle. There was no sign of the computer whiz kid from the 4th movie, and not much mention of the silly Decapitron puppet which was introduced previously. Not very enjoyable. The story didn't really stand well on its own, and seemed like leftover scenes from the 4th movie. Bloody awful.
Lafe Fredbjornson
Super Reviewer
Puppet Master V (Puppet Master 5: The Final Chapter) Quotes
There are no approved quotes yet for this movie.