Puppet Master vs. Demonic Toys
(2004)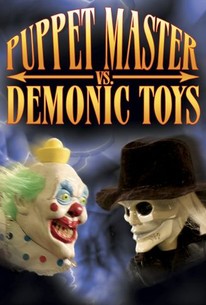 AUDIENCE SCORE
Critic Consensus: No consensus yet.
Puppet Master vs. Demonic Toys Photos
Movie Info
Puppet Master Vs. Demonic Toys stars Corey Feldman as Robert Toulon, an inventor who is attempting to make four puppets he has created come to life. He finds some competition by one Erica Sharpe, who has come up with an army of evil toys. Soon the two factions are at war with each other during the Christmas season.
Critic Reviews for Puppet Master vs. Demonic Toys
Audience Reviews for Puppet Master vs. Demonic Toys
The first and only film which has nothing to do with Charles Band! thusly it has been said to not be cannon within the franchise. You can see the difference with this film straight away with the production values clearly a lot higher. There is an obvious glossy shine to this which is well above the usual low budget look. This doesn't mean its any good though, sure its not a bad film and it is better than some of the earlier Band films but there is nothing special here. Corey Feldman is the great grand nephew of 'Toulon' ('Robert Toulon') in this which is a neat bit of casting but why on earth they dyed his hair greyish and introduced a daughter that's clearly the same age as him I don't know. I realise this isn't a serious film but but at least be somewhat sensible. Vanessa Angel is the villain who is after the secret of 'Toulon' and the puppets which serve his great grand nephew. She also has to please a demon called 'Bael' who she has made a deal with to make all toys come to life and be evil in exchange for 'Robert Toulon's' life and soul. Oh and she has the Demonic Toys on her side also. The plot is quite well thought out and does cover a lot more which I can't be bothered to mention here, but it does of course conflict with the Puppet Master franchise from Band I believe. Its not bloody or gory and of course not very scary, more an off the wall 'Tales from the Crypt' type film. Some reasonable effects and makeup but nothing outstanding and some fun colourful puppet vs toys battles which look cheesy, all part of the charm. One thing I noticed and that was the puppets of 'Puppet Master' didn't look quite as good as usual. Clearly a minor difference in quality seeing as this wasn't anything to do with Band so the puppets weren't the originals or made by the same people. The Demonic Toys looked pretty good though.
Phil Hubbs
Super Reviewer
A crossover made TV film with the Puppetmaster characters and Demonic Toys might be a somewhat bizarre, yet interesting affair if it would have been done right. However, like with every other sequel in this mess of a series, Puppetmaster VS Demonic Toys is one of the most awful films in horror. I've seen a lot of films, but this one is bad, stupid with poor ideas on-screen. This might have worked if there would have been an interesting angle on the subject, unfortunately this feels like the scriptwriters just didn't care about the end result, and it clearly shows on-screen. Everything about the film suffers, from the cast, to the story to the directing, everything is poorly done and this film ends up like every other sequel in the series, an awful mess that isn't worth watching. The poorly written script is one of many bad things going wrong for this film. I hated the film, thought it was a waste of time. As a horror film, it fails, if this is supposed to be funny, sort of like a comedy horror film, well it isn't. I found it appalling at how bad this film was. The film should never have been made and there's nothing to enjoy about the film. There was potential in the film, and if they would have done it in the series early years, when the sequels weren't as bad as they became in subsequent years, then maybe this film would have turned out good. Unfortunately this is yet a film that misses the mark, and isn't worth watching.
½
This is my first Puppet Master film, and even thought the third in a series; I must say it's pretty enjoyable. As most people are have a phobia of clowns I enjoy them, more teeth the merrier I always say, also the collection of Puppet master toys is pretty cool also. But when you have someone playing the Dad Part have him be the correct age of part being played. More of a Teen horror type movie, in line with the Freddie series. Its worth 3 1/2 stars
Bruce Bruce
Super Reviewer
Puppet Master vs. Demonic Toys Quotes
There are no approved quotes yet for this movie.