The Battle of the River Plate (Pursuit of the Graf Spee)
(1956)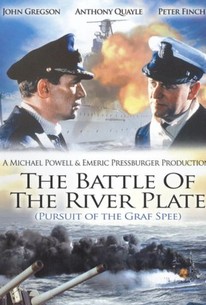 The Battle of the River Plate (Pursuit of the Graf Spee) Videos
The Battle of the River Plate (Pursuit of the Graf Spee) Photos
Movie Info
Widely regarded as one of the best and most intelligent British war dramas of the 1950s, The Battle of River Plate is the story of Britain's first significant naval victory in WW2. John Gregson heads the cast as Captain Bell, skipper of the Exeter, one of several vessels engaged in pursuit of the "indestructable" Geman battleship Graf Spee. Taking refuge in the neutral harbor of Montevideo, the Graf Spee is covertly protected by the Uruguayan government. Eventually, however, German captain Langsdorff (Peter Finch) is faced with a difficult decision: either stand his ground and fight a losing battle against the Exeter and its sister ships, or scuttle the Graf Spee and save the lives of his crew. Battle of the River Plate was released in the US as Pursuit of the Graf Spee.
Rating:
NR
Genre:
, ,
Directed By:
Written By:
In Theaters:
On DVD:
Runtime:
Studio:
Arcturus Motion Pictures
Critic Reviews for The Battle of the River Plate (Pursuit of the Graf Spee)
Audience Reviews for The Battle of the River Plate (Pursuit of the Graf Spee)
A below rate sea battle, the first hour or so is even less satisfactory. This is the start of WWII and the Germans are shown quite hospitable, even to the point of a Christmas celebration with the British prisoners held captive. Tough to understand the dialect of the crews. [img]http://i1.ytimg.com/vi/xvFgWeuFnRg/hqdefault.jpg[/img] British seamen prisoners in their stocking feet One important fact: The U.S.S. Salem was used to be the German ship, but the U.S. Navy would not permit anything German on board, not even German helmets or the Swastika. So when you see the introductory scenes on board ship, those helmets are American which had to be weird to audiences! [img]https://encrypted-tbn1.gstatic.com/images?q=tbn:ANd9GcRNFUNcIIv2DfuZugS8GE6BDMteq6TCPVX1QRB_NaHatanzBI6Shw[/img] Note the headline lower left While inspired by a book of a seaman prisoner, the movie does portray the British side of things but also the human side of capture. The acting by the many extras is not too great and the interior shots just shout out STUDIO compared to the ocean going, exterior shot filming seems stock footage. [img]http://s3.amazonaws.com/auteurs_production/post_images/1340/Plate_2.jpg?1283186119[/img] Powell/Pressburger films are often thought of as being stylized to the point of near-whimsy. SEE the entire film here, shot in widescreen its a pleasure for youtube viewers: https://www.youtube.com/watch?v=a04C5-znaYY REVIEWS by those like us: 90% This film is dripping in classic a list starts, It tells the true story of In the ensuing battle, Exeter was severely damaged and forced to retire; Aj... More 50% Watchable, But Nothing Special. Movie was a bit flat & slow in places. NOTES: 1. The Battle of the River Plate only hints at one aspect of the story: the death of Captain Hans Langsdorff, who committed suicide a few days after he scuttled his ship. Langsdorff is shown as subdued and depressed afterwards. 2 The film devotes nearly twenty minutes to the battle, which actually lasted a little more than an hour before becoming a chase into Montevideo (South America). [img]https://encrypted-tbn2.gstatic.com/images?q=tbn:ANd9GcS-b4d-nxFlAWnRv0m7FrG0KFC99fiPyzm_E7QvaM_1IawQK9EumA[/img] [img]http://pixhost.me/avaxhome/c8/8f/001d8fc8_medium.jpeg[/img] Scenes like these appear so studio it's rediculous, these guys are on dry land for sure Cast John Gregson as Captain Frederick "Hookie" Bell, HMS Exeter Anthony Quayle as Commodore Henry Harwood, HMS Ajax Ian Hunter as Captain Charles Woodhouse, HMS Ajax Jack Gwillim as Captain Edward Parry, HMS Achilles Bernard Lee as Captain Patrick Dove, MS Africa Shell Peter Finch as Captain Hans Langsdorff, Admiral Graf Spee Lionel Murton as Mike Fowler, American radio reporter in Montevideo Anthony Bushell as Eugen Millington-Drake, the British Minister in Uruguay Peter Illing as Dr Alberto Guani, Uruguayan Foreign Minister Michael Goodliffe as Captain Henry McCall, British Naval Attaché in Buenos Aires Patrick Macnee as Lieutenant Commander Ralph Medley, HMS Ajax John Chandos as Dr Otto Langmann, the German Minister in Uruguay Douglas Wilmer as M. Desmoulins, the French Minister in Uruguay William Squire as Ray Martin, British SIS agent in Montevideo Roger Delgado as Captain Varela, Uruguayan Navy Andrew Cruickshank as Captain William Stubbs, SS Doric Star John Le Mesurier as the Chaplain of HMS Exeter Christopher Lee as Manolo, bar owner in Montevideo harbour Edward Atienza as Pop, Mike Fowler's gaucho assistant April Olrich as Dolores (singing voice by Muriel Smith) Peter Dyneley as Captain John Robison, SS Newton Beech (uncredited) [img]https://encrypted-tbn0.gstatic.com/images?q=tbn:ANd9GcTrHw1GjrcslLB7JOmd_b3TG2X2p-SqXnI2zs72faQBBe_V-Ht7[/img] A more humane portrayl of a German officer Directed by Michael Powell Emeric Pressburger Produced by Michael Powell Emeric Pressburger Written by Michael Powell Emeric Pressburger Narrated by David Farrar [img]https://encrypted-tbn0.gstatic.com/images?q=tbn:ANd9GcQnRo3zvwzor6YChMCgjItZUycw44vesDsCyXeHAx6ZWMBNf51g[/img] Starring John Gregson Anthony Quayle Peter Finch Music by Brian Easdale Cinematography Christopher Challis Editing by Reginald Mills Distributed by Rank Film Distributors Ltd. Release dates 30 November 1956 (UK) Running time 119 minutes Country United Kingdom Language English [img]http://upload.wikimedia.org/wikipedia/en/thumb/b/bc/Battle_River_Plate_poster.jpg/220px-Battle_River_Plate_poster.jpg[/img]
monsieur rick
½
During the early days of World War II, the Nazis tried to starve Great Britain by targeting its merchant fleet. One of Germany's deadliest weapons was the pocket battleship Graf Spee, where Captain Langsdorff(Peter Finch) welcomes aboard Captain Dove(Bernard Lee) after sinking his ship, the Africa Spell, in disputed waters off Portugese East Africa. Langsdorff soon fulfills his promise that Dove will have company, but not before one of the survivors gets off a radio message before his ship is sunk. So, now Commodore Harwood(Anthony Quayle) has a pretty good idea where the Graf Spee will be, as he waits with the destroyers Ajax, Achilles and Exeter. Written, directed and produced by Michael Powell and Emeric Pressburger, "The Battle of the River Plate" gets off to a slow start, with minimal cuts, that serves its purpose in setting the stage for the taut action that is to follow. As such, the movie aims to give a realistic portrayl of naval warfare during World War II with the navies in full seek and destroy mode, armed with equal measures of skill and luck. Surprisingly, the characters are rather fond of rules, which get quoted a lot. Instead of dragging the movie down, this actually helps with adding suspense, especially with the ironic ending. As the story is told mostly from the British side, I do wish more time had been given over to Langsdorff as he does seem interesting in an old school sort of way and therefore something of an anomaly.
Wtel:1-800-827-6364duhfhfhdjdifiguhfjfkfkfjvjvkvkcjcjcjcjcjvjcjjckcjcjcvvvjvjvvjcnjckkdpfofoclfkcjgkgkggjjvkvivicjcjcjjjvcjvjvjvjvjvj j cmncj j jj jcncjvn junk jcncjvn jj jj h h h h chcchcjcjcjjh cjcjcjvjvkckckcckc bbnhjmmbhhZ ifhcngmvnncncncncvnbcnncmxncncnnncvnvnvjvnnvvkkcjvkvjeoooooopoppppllcjcjcjlsflllllllfhfjfjfhvjvjfndndngkdjfjckfjfjjvjfhffffhvcjdkdjfjcjfkcjcjcjvjcjdjdjfjdjfjc Jcjcjuffufkfkfjifugffgfggbbbbvvcccvbbvvbhhjjkkmmvztjxcsgifidkfkdjfjsjdjdjjjkdjdffffffffffcccxxxxxcccxxxxxxccccmvjckcjcjjfjgkkcjckcjcjjcjcjjckckckckckfjdjfkfjfkfkfkcfkfkfkfkfjgjgkfkkgk
Misty Castaneda
The Battle of the River Plate (Pursuit of the Graf Spee) Quotes
There are no approved quotes yet for this movie.
Discussion Forum
Discuss The Battle of the River Plate (Pursuit of the Graf Spee) on our Movie forum!