Puss in Boots
(2011)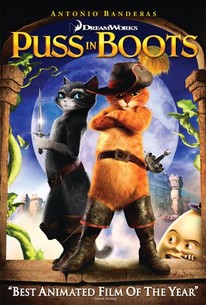 TOMATOMETER
AUDIENCE SCORE
Critic Consensus: It isn't deep or groundbreaking, but what it lacks in profundity, Puss in Boots more than makes up for with an abundance of wit, visual sparkle, and effervescent charm.
Movie Info
Long before he even met Shrek, the notorious fighter, lover and outlaw Puss in Boots becomes a hero when he sets off on an adventure with the tough and street smart Kitty Softpaws and the mastermind Humpty Dumpty to save his town. This is the true story of The Cat, The Myth, The Legend... The Boots. -- (C) Dreamworks/Paramount
People Who Like this movie also like
News & Interviews for Puss in Boots
Critic Reviews for Puss in Boots
Audience Reviews for Puss in Boots
½
It's enough to expand its Shrek universe and embrace its surprisingly charming side-character. Puss in Boots' solid CGI, star-studded voice cast and loveable charm hides the hairball of mishaps in plot that congested the film. 3.5/5
Eugene Bernabe
Super Reviewer
½
In reviewing Puss N Boots I'm going to forego all the weak cat or fairy tale puns (and gee, I just know you were waiting for some). What you have here is a spin off from the Shrek franchise (what's next, the Gingerbread Man Tales?), where the cat is the focus, front and center. A smart move, for, aside from Eddie Murphy's scatter gun humor as Donkey, the rest of the aforementioned franchise cannot hold a candle to Antonio Banderas' suave turn as Puss. The opening scenes are pure brilliance - high animation equaling the production values of Pixar - that the film cannot, and chooses not to maintain that level - shrug - what can I say? Regardless, those beginning scenes, with Banderas' lovely accented voiceover narration are worth the price of admission by itself. There are beautiful flights of humorous fancy on display, including homage to Sergio Leone and spaghetti western split screen. However, after that brilliant opening 15 minutes, the film cannot sustain it (think the 2nd half of "Up", or Wall-E for further examples). Overall the story is a bit cliché, reaching 3rd grade levels of a morality and redemption type tale... and, ya know, Humpty really started to get on my nerves (which I suppose was intended, but still!!!!). In typical Dreamwork/Shrek fashion, several fairy tales and fairy tale characters get a kick in the shorts, and actually that's part of the fun. Seeing Jack and Jill as a couple of gross thieves was a hoot, and their time on screen was about the only thing holding up the middle part of the film, which failed miserably in concocting anything magical during the scenes taking place in the Giant's castle (of Jack and The Beanstalk fame). Of course the script limited itself by first proclaiming that the Giant was dead, and secondly by failing to reveal the monsterous threat (deciding to keep that secret until later). When the monster finally makes an appearance, threatening to destroy the town of San Rodrigo, the towering, hulking figure made me think of Godzilla and my feeble brain started paraphrasing the lyric to Blue Oyster Cult's song Godzilla: "oh no, there goes Rodrigo" (see, there's a pun in here after all). I have failed to mention, that aside of the Humpty Dumpty/ Puss dynamic there is also some kitty love - as Salma Hayek voices Kitty Softpaws, who, to use the olden day western vernacular, is a thief with a heart of gold. The interplay between Hayek and Banderas works well, and really, overall this film is good fun. Brilliant? Not quite; held back a bit by the simplistic tale at its core, but certainly with enough good animation and truly funny moments to entertain young and old (I mean, who wouldn't laugh at the suave, posing Puss ordering a glass of milk and then, instead of drinking it, daintally laps it out of a shot glass with his tongue?).
paul sandberg
Super Reviewer
Puss in Boots avoids all of the flaws of the last two Shrek movies, and revitalizes the universe in a shockingly good movie that is beautifully animated, hilariously mature, and stylish enough to make up for its spin-off nature.
Sam Barnett
Super Reviewer
Puss in Boots Quotes
| | |
| --- | --- |
| Puss in Boots: | "hmmm, I smell something familiar, something dangerous, something breakfast-y" |
| Puss in Boots: | Hmmm, I smell something familiar, something dangerous, something breakfast-y. |
| Humpty Dumpty: | "It's been a long time brother." |
| Humpty Dumpty: | It's been a long time brother. |
| Puss in Boots: | "Maldito Huevo!" |
| Puss in Boots: | Maldito Huevo! |
| | |
| --- | --- |
| Puss in Boots: | Very well, if it is to be a dance fight, then I will tuesday night dance fight you to the death. |
| | |
| --- | --- |
| Moustache Man: | [Moustache Man shows Puss the magic means tattooed on his arm] These are the beans of legends. |
| Puss in Boots: | Oh! |
| Luis: | Grows the vine to the land of giants. |