Pyaar Impossible
(2010)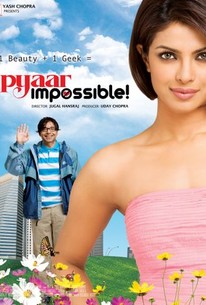 AUDIENCE SCORE
Critic Consensus: No consensus yet.
Movie Info
A dream girl (Priyanka Chopra) and a hapless geek (Uday Chopra) are thrown together into a passionate love affair via a bizarre twist of fate in this colorful and breezy musical romantic comedy. Anupam Kher.
Critic Reviews for Pyaar Impossible
There are no critic reviews yet for Pyaar Impossible. Keep checking Rotten Tomatoes for updates!
Audience Reviews for Pyaar Impossible
This is an amazing movie, I mean I am only halfway through watching it and it started out kind of dull and boring but has gotten pretty funny and good. If the ending if written half as well as the first half it is a great movie, well thats it for the pros. Cons and suggestions for bluray features: Im a bit of a slow reader so I have to be quick firing on the pause button a nice bluray feature would be a slow reader mode where it does not move ahead on anything spoken not in english or your chosen language until you press a button to tell it you finished reading. Also at first I found the transitions a bit more complicating than a normal foreign movie, where not everything needs to be read and its a bit hard to tell when you need to pause and read and when you dont cuz the accents are so strong when spoken in english, it takes a sec to realize its not foreign language being spoken.. Once you get used to that its a little better and a lot more nicer to not have to pause and read every single subtitle I hope they consider that feature in bluray release since it would be so easy to incorporate and it could jump ahead a few frames and skip to the end of displayed text so you dont then have to wait on the ones that display longer and really that makes little sense sometimes they jump off the screen at a fast rate when they are at least two long lines and other times they stay on the screen almost longer enough to read, it would make more sense to me if it was one or two word ones going by that fast but whole paragraphs almost thats insane, can anyone out there really read that fast.
William Osborne
½
A cute predictable love story that goes to Singapore 1/2 way through the movie. That was a nice surprise. I have no idea why they made this 2hrs and 50 mins though.
John Cockrell
½
Absolutely sweet! Abhay Sharma has always loved Alisha even after she abruptly leaves their college. Seven years later, Abhay is just about to release his new software program when it is stolen from him. His search brings him to Singapore, and it is there that he meets Alisha again. With a young daughter, Abhay hopes that he will gather enough courage to confess his love for Alisha and retrieve his stolen software as well. Uday Chopra, Priyanka Chopra, Anupam Kher, and Dino Morea stars. Worthy!
Pyaar Impossible Quotes
There are no approved quotes yet for this movie.
Discussion Forum
Discuss Pyaar Impossible on our Movie forum!