Millennium Mambo (Qianxi Manbo)
(2001)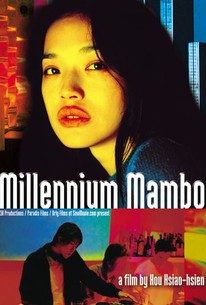 Millennium Mambo (Qianxi Manbo) Photos
Movie Info
The youthful Vicky is torn between two men, Hao-Hao and Jack. At night she works as a PR person at a night club to support both of them. Hao-Hao keeps vigilance over her all the time, whether she is on or off the job. He checks her charge accounts, telephone bills, mobile phone records, and even her body odor in an attempt to trace Vicky's activities. She cannot stand him any longer; she runs away. Hao-Hao finds her, begging her to go home. She sets herself a deadline to end the relationship -- when the $500,000 in her bank account is used up. At the same time, Jack makes diversified business investments. His open-arm policy to anyone in need of his help has courted some trouble. Vicky has already run to his place twice. Some degree of affinity between them begins to take shape. It may lead to a closer relationship or a permanent friendship.
Critic Reviews for Millennium Mambo (Qianxi Manbo)
Audience Reviews for Millennium Mambo (Qianxi Manbo)
½
Though not without its flaws and with a narration that feels at times (not always) redundant, this heartbreaking, melancholy film has an evocative cinematography (the first scene is memorable) and offers an honest portrait of a generation of youths trying to find their way in life.
Carlos Magalhães
Super Reviewer
Coming out of Taiwan, Millennium Mambo is a film from Hsiao-hsien Hou with its own uniqueness. Unique enough to make it special? To some, maybe.
There isn't much to the plot and although this seemingly B-movie is realistic, it isn't entertaining enough. This 1 hour 40 minute picture creeps by slowly and it is almost all long takes. I'm talking takes that take minutes at a time. While this is pretty cool, the camerawork isn't the greatest and everything that happens in these shots are uneventful. There is also narration that basically explains what will happen next for most of the movie. I guess that means no surprises.
It must be the realism that will catch people's interest, but watching all the constant smoking and drinking, whether in a club or at an apartment, makes you want to go someplace with fresh air.
The gorgeous Shu Qi puts on a quite a performance. It is too bad this movie isn't as entertaining as her. The rest of the supporting cast is forgettable. Chun-hao Tuan is one annoying guy to watch. His character is just so bland and irritating that he is very detestable. You don't love to hate him. You just hate him.
Props to the long takes and Shu Qi, but at the end of the day, Millennium Mambo is one boring movie. I'm not saying that this is a film to avoid, because people that enjoy the directing work of Hsiao-hsien Hou or the acting of Shu Qi will want to give this a shot.
I aspire to become familiar with Hsiao Hsien's film package,in a greater degree through his past movies.His independent mambo derives a swaying emotion and a texture of images brimmed with poetry no matter how many neon lights appear.There should have been a more "undercover" mystery in all this,it's an obvious fact this girl's loneliness pushes her endorsed senses.The 2000's is a new era for Taiwanese cinema and Hsien.
Dimitris Springer
Super Reviewer
Millennium Mambo (Qianxi Manbo) Quotes
There are no approved quotes yet for this movie.