Quante volte... quella notte (Four Times that Night)
(1972)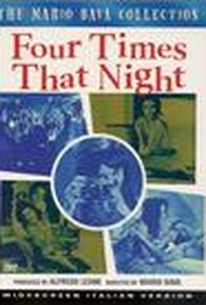 AUDIENCE SCORE
Critic Consensus: No consensus yet.
Movie Info
In the tradition of Akira Kurosawa's classic tale Rashomon comes this wild sex farce from Italy's master of the macabre, Mario Bava. Last night was a wild one for Tina (Daniela Giordano) and Gianni (Brett Halsey), but for the life of her, the confused woman can't quite recall how she ended up in bed with her handsome and mysterious date. Did the seemingly pleasant date lead to a night of passion-fueled consensual sex between Gianni and Tina, or did Gianni deliberately force himself on Tina in a horrific act of rape? Both the scratches on Gianni's forehead and Tina's torn dress seem to point to some mishap that may have occurred over the course of their date, but matters are infinitely complicated when Tina's overly protective mother and her nosey concierge chime in with two entirely different takes on the evening's events. Only when viewers witness the story from all four unique vantage points will they begin to understand the events that truly unfolded over the course of Tina and Gianni's lost evening together. ~ Jason Buchanan, Rovi
Rating:
R
Genre:
, ,
Directed By:
In Theaters:
Runtime:
Critic Reviews for Quante volte... quella notte (Four Times that Night)
All Critics (2) | Fresh (1) | Rotten (1)
Bava has a real handle on the eroticism as well as the unique staging within the apartment building set.


Audience Reviews for Quante volte... quella notte (Four Times that Night)
Gorgeous, chic fluff from Mario Bava that transforms Rashômon into an Italian sex comedy. Gianni (Brett Halsey) and Tina (Daniela Giordano) meet cute in a park and spend the night together; but whose account should we believe: his? hers? the lusty doorman's? or the psychoanalyst's? It's a light, frothy, funny romp that, thankfully, isn't as loud or as frenetic as many Italian comedies. It's also an interesting film from an auteurist perspective. Bava was best known for his horror films, and this was one of his few comedies. The film's constantly shifting perspectives and its sustained ambiguities about the different characters' agendas are, however, quite in keeping with the thrillers he was making around the same time, like 5 Dolls For an August Moon and A Bay of Blood. And the colorful, mod look is unmistakably, quintessentially Bava.
Andrew Syder
Eh, what a dismal way to end the box. (I'm actually thinking of watching The House of Exorcism for some reason, even though it is just another cut of Lisa and the Devil. Bava really needed to stick to horror. I can understand wanting to spread out an dmake other movies. Normally, I encourage it. But usually when a strictly genre director moves in other directions, his efforts are pretty mediocre. In the case of Bava, his other movies are outright failures. This is another pretty mod comedy that just doens't really appeal to Bava's strengths. Again, this might be my distant relationship to early 70's Itaian sex comedies, but I just don't find their slapstick sense of humor very funny. It's almost tedious watching these films. The "wha-wha-wha" mentality gets old extremely fast. But that's what these movies are loaded with. Perverts looking at porn. That's it. There's this really odd mentality that goes with this movie. I hate to even throw in a good movie title into this review in fears of tainting that good movie's reputation, but the idea behind this movie is the same as Rashomon's. Everyone's perspective of the truth is different and there is no right or wrong. But this movie tries to make this point while completely smearing rape victims' credibility. (You heard me. Women only cry rape to get ahead in life according to this movie) But the thesis is that all things are truth and none of them are truth. Too bad that one is flat out explained as a lie. Why go through all of that explanation where a narrator straight up explains the point of the movie becuase we're too dumb to get it on our own? I mean, there's this entire lame section where this sex romp is compared to Noah's Ark. (Saying it right now is actually funnier than the actual bit. That's how bad this movie is.) The concept isn't at all original and actually fails at copying an already established formula! How is that possible? This movie is better than Roy Colt and Winchester Jack however. The one thing that I can give this movie over that abysmal waste of film is the fact that it is somewhat remotely structured. You know exactly the way the movie is going to progress. Really, this is an easy to film movie that just follows a linear progression. Also, the chicks in the movie are pretty hot. Now, normally this wouldn't be a plus towards the film, but A) there's very little going for this movie and B) Bava was kind of shooting for that. I just won't get used to the dark black forearm hair. It's gross. Okay, not awfully gross, but always requires a second look. I have to stress: The second Bava box, for the most part, sucks. This was a depressing ending to an already terrible movie. I really should go back and watch the first box just to make me feel better about the director.
Tim Hruszkewycz
½
A sex-obsessed, hippy version of Rashomon that meditates upon the nature of truth and the lies that people tell. What makes Bava's reworking of Kurosawa's classic work is that it plays with the stories that men and women tell one another and how these differ.
Al Miller
Quante volte... quella notte (Four Times that Night) Quotes
There are no approved quotes yet for this movie.
Discussion Forum
Discuss Quante volte... quella notte (Four Times that Night) on our Movie forum!