Quantum of Solace
(2008)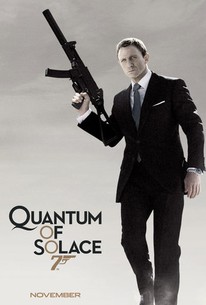 TOMATOMETER
AUDIENCE SCORE
Critic Consensus: Brutal and breathless, Quantum Of Solace delivers tender emotions along with frenetic action, but coming on the heels of Casino Royale, it's still a bit of a disappointment.
Movie Info
A devastating betrayal sends James Bond from Australia to Italy and South America on a mission of vengeance that pits the suave super-spy against a powerful businessman with diabolical intentions. Betrayed by Vesper, 007 (Daniel Craig) suppresses the urge to make his latest mission personal as he teams with M (Judi Dench) to interrogate Mr. White (Jesper Christensen). It soon becomes apparent that the organization behind the blackmailing of Vesper is more powerful than Bond and M had previously anticipated, and after discovering forensic evidence that links an MI6 traitor to a bank in Haiti, Bond immediately sets out to gather more intelligence. Once in Haiti, a case of mistaken identity leads Bond into the company of the ravishing Camille (Olga Kurylenko), a dangerous beauty with her own vendetta. It's Camille who leads Bond to a ruthless businessman named Dominic Greene (Mathieu Amalric), who is soon revealed to be the mastermind of a powerful but clandestine organization. Greene is conspiring to corner the market on one of the world's most precious natural resources, and in order to make that happen he has forged a deal with an exiled general named Medrano (Joaquin Cosio). By enlisting the aid of his many associates and using his vast resources to force contacts within the CIA and the British government into bending to his will, Greene plans to overthrow the current regime of a Latin American country and hand control over to General Medrano in exchange for a parcel of land that appears barren on the surface, but actually houses a natural resource that will make Greene the most powerful man on the planet. But Bond's mission to uncover the culprit who blackmailed Vesper and prevent Dominic Greene from exerting his will on the entire world won't be easy, because now everyone from the CIA to the terrorists and even M are out to get him. ~ Jason Buchanan, Rovi
News & Interviews for Quantum of Solace
Critic Reviews for Quantum of Solace
Audience Reviews for Quantum of Solace
½
Despite being an obvious step down from the incredible Casino Royale, this is still one of the better Bond films thanks to Daniel Craig's continued reinvention of the role and some truly riveting action sequences. The plot is a little confusing, but enjoyable as a revenge thriller. Olga is a fantastic change of pace for the typical Bond girl and gets Bond to show continued growth as a more emotional character. After this film and Casino Royale, we understand why Bond is the way he is later on in his life. Despite some choppy editing and shaky cam, this film is very nice to look at as most Bond films are. Overall, it's a kick ass action film and a solid Bond outing for Craig and company. I like the more mature and focused Bond that Craig and the filmmakers have come up with.
Josh Lewis
Super Reviewer
½
After Casino Royale reset the franchise and breathed fresh life into the character of Bond, Quantum immediately follows it up with a well staged but overly familiar bullet-riddled car chase. Bond is then chased by men with foreign accents atop motorcycles/speedboats/jet fighters and jumps out of a plane without a parachute. Again. Female agents are once more demoted to dolly birds who hurtle into Bond's bed with such ferocious speed they threaten to break the sound barrier, only to instantaneously wind up in a body bag (as usual) and he battles a shadowy multinational organization with a hidden agenda but with a rather dreary nerd in command instead of a cat stroking cartoon character. The problem with Quantum Of Solace is it makes the mistake of making Bond go rogue; this always sounds good, but it never works. When he goes off on one, he just turns into a one dimensional killing machine and it removes all the moral ambiguity and grey areas that make 007 interesting. The plot is little more than chase-fight-chase-fight-chase-fight, all of the supporting characters are dispensable and irrelevant and the editing is migraine inducing; I doubt that there's a shot that lasts more than three seconds for the entire duration of the film! Instead of continuing with the new direction introduced in the previous film, QOS is very much business as usual and although it does have enough action to make it feel like a treat on a superficial level, it's pretty much all empty calories.
Quantum of Solace Quotes
| | |
| --- | --- |
| James Bond: | Are you gonna tell us who you work for? |
| Mr. White: | I was always very interested to meet you, I'd heard so much about you from Vesper. The real shame is, if she hadn't killed herself, we would've had you too. I think you would've done anything for her. |
| | |
| --- | --- |
| James Bond: | I don't think the dead care about vengeance. |
| | |
| --- | --- |
| Dominic Greene: | My friends call me Dominic. |
| James Bond: | I'm sure they do. |
| | |
| --- | --- |
| M: | And Bond, if you could avoid killing every possible lead it would be deeply appreciated. |
| James Bond: | Yes ma'am, I'll do my best. |
| M: | I've heard that before. |
Discussion Forum
Discuss Quantum of Solace on our Movie forum!