Quarantine 2: Terminal
(2011)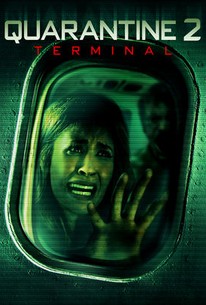 Quarantine 2: Terminal Photos
Movie Info
Earlier tonight, a bizarre disease was unleashed in a run-down Los Angeles tenement... and no one got out alive. Yet something escaped. Now, aboard Flight 318, the first symptoms begin to show. As the infection begins to takes root, innocent passengers suddenly transform into terrifying, bloodthirsty killers. Forced to land at an isolated terminal, and surrounded by armed government agents, the crew and passengers grow increasingly desperate. The only question now is how far they will go to survive.
Critic Reviews for Quarantine 2: Terminal
Audience Reviews for Quarantine 2: Terminal
½
A fairly poor follow up, although it does have a slight link to the first story. On the same night as the first film, a flight out of L.A. becomes contaminated with the virus. This could have been better with a bigger budget and set inside the airport. However the group from the flight try to survive by holding out in the baggage section by the runway. Overall it wasn't bad but compared to the first film and the two Rec films it was a disappointment.
As sequels to remakes go...this was pretty impressive. Lot's of good tension, scares and gore. Some (mostly) solid acting from the (mostly) "no name" cast.
½
Quarantine 2: Terminal is definitely not as good as the first movie. It's not a bad movie, but it just doesn't live up to expectations. The major issue is that it's not close to as frightening as the original Quarantine. I might have jumped once or twice during the movie, max. So, don't go into this expecting a lot of thrills and chills. The part of the film that is most likely to make you wince actually involves a needle, which might be great for a Saw movie, but not exactly what I was hoping for from this. Along with less scares, we get less gore and less "zombie" action. The characters aren't very interesting for the most part, either, though there are a couple of pretty sexy ladies for the guys who don't mind something a little extra on-screen to help keep their attention. The filmmakers decided to go on their own direction, and the story is a complete departure from what happened in the continuation of the REC series (which Quarantine was originally based on). Nothing wrong with that, but the sequel suffers without a strong story framework to base it on. Quarantine 2 is just not that good. My interest in it dwindled the further it went along, until I was just ready for it to be over. Which doesn't exactly make me excited that the ending sets up perfectly for a third entry in the series.
Quarantine 2: Terminal Quotes
There are no approved quotes yet for this movie.