Que Viva Mexico (Que Viva Mexico! - Da zdravstvuyet Meksika!)
(1979)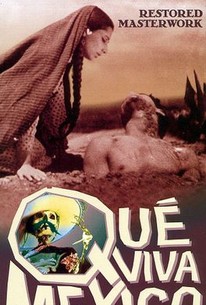 AUDIENCE SCORE
Critic Consensus: No consensus yet.
Que Viva Mexico (Que Viva Mexico! - Da zdravstvuyet Meksika!) Videos
Que Viva Mexico (Que Viva Mexico! - Da zdravstvuyet Meksika!) Photos
Movie Info
This film is a frame for four separate short films concerning the history and glory of Mexico's history, people, bloody revolution and drama of the bullring. Left uncompleted by Sergei Eisenstein and finished by Grigori Alexandrov, this Russian celebration of independent Mexico is well worth a look.
Rating:
NR
Genre:
, , , ,
Directed By:
Written By:
In Theaters:
On DVD:
Runtime:
Studio:
Kino on Video
Critic Reviews for Que Viva Mexico (Que Viva Mexico! - Da zdravstvuyet Meksika!)
All Critics (1) | Fresh (1) | Rotten (0)
Alexandrov's interpretation of the Eisenstein's Que viva Mxico! becomes rather slippery when analyzed using an auteurist model.

Audience Reviews for Que Viva Mexico (Que Viva Mexico! - Da zdravstvuyet Meksika!)
Like many a foreign film director, Sergei Eisenstein, of all people, also went to Hollywood to make his fortune but could not reach a deal with Paramount Pictures.(The more things change, the more things stay the same.) Instead, he hooked up with Upton Sinclair to make a movie about Mexico with Diego Rivera one of the guides. "Que Viva Mexico" is the result of those efforts, restored some years after the fact and sadly missing one of its planned episodes that was never made due to low funds. This was apparently shot on silent film stock with sound effects and a musical soundtrack that veers between electronic and Ennio Morricone on acid added later. "Que Viva Mexico" is a rousing ethnographic panorama of the country from pre-Colombian days to the then present day. Through these brief episodes, made with no professional actors, we get a wide glimpse of Mexico's changing attitudes and customs over times. For example, the sacrifices that now occur are the bulls in the ring, with an early use of the 'bull cam.'
I feel guilty criticizing an unfinished film, but it's all I have to work with. Eisenstein's photography is top-notch, of course. Plenty of iconic images to behold here. The prologue and the epilogue are both very fine as well; the former kind of an ethnographic pastiche of all things Mexican, and the latter an exciting look at the "Day of the Dead" celebration (always a fascinating subject). But the main parts of the film aren't that hot. It's split into two stories. The first is about a matador and includes a bullfighting sequence. It's not bad, but it eventually wears out its welcome. Not nearly as much as the other story, however, about a loving couple and their cruel landlord. It's a revenge tale that captures the rebellious spirit that Eisenstein would have expanded upon had he been able to finish the project, but it goes on waaaaaaaaay too long and rarely succeeded in holding my interest. The storytelling technique is like that of a silent film, with just a bare minimum of voiceover serving as the intertitles. I'm not sure whether or not Eisenstein would have wanted it that way. Still, like Welles' Don Quixote, it's better to have a flawed look at what might have been rather than nothing at all.
Martin Teller
Que Viva Mexico (Que Viva Mexico! - Da zdravstvuyet Meksika!) Quotes
There are no approved quotes yet for this movie.