Queen & Paul Rodgers - Return of the Champions
(2005)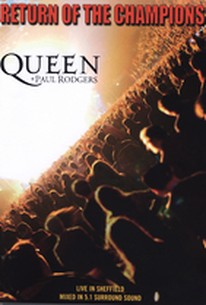 AUDIENCE SCORE
Critic Consensus: No consensus yet.
Movie Info
Rating:
NR
Genre:
On DVD:
Critic Reviews for Queen & Paul Rodgers - Return of the Champions
There are no critic reviews yet for Queen & Paul Rodgers - Return of the Champions. Keep checking Rotten Tomatoes for updates!
Audience Reviews for Queen & Paul Rodgers - Return of the Champions
[center][img]http://img.photobucket.com/albums/v317/dean.killed.bill/More%20stuff/1121941221_HP12M.jpg[/img] [left]The crowd is anxious. It's about showtime. The lights dim. A lone spotlight shines down from somewhere up in the balcony. Paul Rodgers of Bad company fame walks slowly out onstage. He begins singing the opening lines of his hit "Reaching Out". After a verse, a familiar guitar roars from somewhere off stage. Brian May steps out from behind a curtain and goes into the opening riff of the Queen hit, "Tie Your Mother Down". As the pace quickens, a huge golden curtain falls and Roger Taylor begins the beat for one of Queen's most successful songs. And with that, the return of the champions begins. First, let me address a very hot topic. Paul Rodgers is no Freddie Mercury. There was only one Freddie. Paul doesn't make the mistake of trying to emulate Freddie; rather, he is putting his own touch onto the songs that Mercury and the rest of Queen have made famous decades before. Rodgers is a passable frontman, but it's rather noticiable that he lacks the charisma of Mercury. Hell, most frontmen do. That all said, the remaining members of Queen play their hearts out (John Deacon, the bassist, has decided not to revive his role in the band). I haven't seen Brian May play with such fire and flair for a long time. His solos have never been this good. In fact, his generically named "Guitar Solo" has never been this good ("Guitar Solo" has been a part of the Queen set for nearly 30 years now). The fact that he seamlessly segues into his song, "Last Horizon" (from his 1992 solo album, "Back in the Light") shows how far he has come full circle in his playing. [center][img]http://www.blogar.com.br/pass/fotos/2003/PaulRodgers2002.jpg[/img] [/center] Back to the concert. After "Tie Your Mother Down", the band launches into the crowd favorite, "I Want to Break Free". Rodgers comes back with a vengeance with some rip roaring vocal work on the oldie "Fat Bottomed Girls". Rodgers is then given the opportunity to do his "Wishing Well" hit. So far, so good. I'm impressed to this point because I expected so little from the DVD. Queen then launches into the crowd pleasers "Another One Bites the Dust" and "Crazy Little Thing Called Love". Brian's guitar work continues to impress me more and more with each solo. He hasn't been this crisp or "on" in some time. After the final chords of "Crazy Little Thing Called Love" settle, Rodgers leaves the stage, as does May. Rodger Taylor walks to center stage and sings his single, "Say It's Not True". Taylor exits stage right and Brian May comes center stage to deliver some crowd pleasers. It should be noted that I have always been impressed with May as a guitarist and a human being. He just seems like a guy who is truly thankful for the fame and the celebrity he has attained. Even at this late stage in his career and life he seems to still be a little surprised he's on stage to the delight of so many people. When he thanks the crowd, as he does here, you feel he is being genuine. I respect that. May starts his set alone with his guitar and belts out his own song, "'39". when Freddie was alive he would sing this in concert, but on the original recording, May sung it. I was happy to see him do so again. He then does "Love of My Life", a Freddie song that he dedicates to the departed former frontman for the legendary band. Of course, the audience sings along in a heart-felt moment. Next, May launches into a bluesy inspired new rendition of "Hammer to Fall". Rodgers rejoins May as Taylor gets back on the drums. The song reverts back to its hard rock roots for the finale. It was refreshing to see May do a new arrangement of a Queen song. [center] [/center] Rodgers rips into the Bad Company hit, "Feel Like Makin' Love". Rodgers again exits as Taylor starts his drum solo titled, "Let There Be Drums". I have always felt Taylor is the most underrated drummer in the industry, and this solo only proves it. Taylor sings his second song of the night with his humorous "I'm In Love With My Car" first heard on "A Night At the Opera". Taylor leaves. Only Brian May remains. [center][img]http://www.brianmay.homestead.com/files/bm6w.jpg[/img] [/center] May launches into his "Guitar Solo" and has seen fit to change things up this time round. He has added some new parts, and even added his own composition "Last Horizon" into the mix. Impressive as usual. Strangely, Taylor returns center stage to do the last Queen single, "These Are the Days of Our Lives". He then goes onto start the beginning of "Radio Ga Ga" before Rodgers returns to seal the deal with the finish. Of course, the fans still clap along with the chorus. The band then goes into one of my least favorite songs, "A Kind of Magic". It's just so damned repetitive. I just know the boys can do better. After the dull song concludes, the band goes into "I Want it All". I'm very pleased as May sets a new standard for his own improvisation during the solo. As the smoke clears, the video monitor show Freddie. Finally, the familar chords of "Bohemian Rhapsody" are played. It's really cool that the band decided to play with a Freddie vocal track (from the "Live at Wembley" show). Rodgers does return for the conclusion of the song, and sings duet with Freddie from so many years ago. The band leaves and finally returns for the encore. The encore starts with "The Show Must Go On". After an inspired rendition, the band goes right into "All Right Now". Lastly, the show concludes with the usual "We Will Rock You/We Are the Champions" finale. As stated earlier, Rodgers is no Mercury. But, what I liked most was the way he stepped aside and allowed May and Taylor to grab the spotlight if ever briefly. It was really refreshing to see May alone on stage with the crowd looking on. The concert was really something and impressive. The DVD of the event lives up to its title...a fitting return of the champions. [/left] [/center]
Dean Dixon
Queen & Paul Rodgers - Return of the Champions Quotes
There are no approved quotes yet for this movie.
Discussion Forum
Discuss Queen & Paul Rodgers - Return of the Champions on our Movie forum!