Queen Margot (La Reine Margot)
(1994)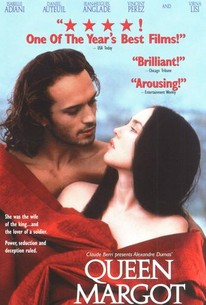 Queen Margot (La Reine Margot) Videos
Queen Margot (La Reine Margot) Photos
Movie Info
The historical novel by Alexandre Dumas was adapted for the screen with this lavish French epic, winner of 5 Césars and a pair of awards at the Cannes Film Festival. Isabelle Adjani stars as Marguerite de Valois, better known as Margot, daughter of scheming Catholic power player Catherine de Medici (Virna Lisi). Margot is an heiress to the throne during the late 16th century reign of the neurotic, hypochondriac King Charles IX (Jean-Hugues Anglade), a time when Protestants and Catholics are vying for political control of France. Catherine decides to make an overture of good will by offering up Margot in marriage to prominent Protestant Huguenot Henri of Navarre (Daniel Auteuil), although she also schemes to bring about the notorious St. Bartholomew's Day massacre of 1572, when tens of thousands of Protestants are slaughtered. The marriage goes forward but Margot doesn't love Henri and takes a lover, the soldier La Mole (Vincent Perez), also a Protestant from a well-to-do family. Murders by poisoning follow, as court intrigues multiply and Catherine's villainous plotting to place her son Anjou (Pascal Greggory) on the throne threatens the lives of La Mole, Margot and Henri. The American release version was cut to 145 minutes. ~ Karl Williams, Rovi
Critic Reviews for Queen Margot (La Reine Margot)
Audience Reviews for Queen Margot (La Reine Margot)
Super confusing at first with lots of names and plots going on. However once it's gets going and u know the who the different characters are its very interesting and note understandable. It chronicles one of the worst events in the catholic history- st Bartholomew's massacre. Wow that male lead actor was hot and had an amazing body and the female lead was so pretty I'm jealous. I kinda wish they showed more of their romance but the movie had a lot going on politically. The costumes were amazing, good musical score and great drama throughout film. The villainous former queen was awesome and well acted. The death by book was pretty creative and sweating out blood was pretty nasty. The movie is kinda gratuitous with violence sex and death. I would like to give this movie 5 stars but the beginning was so confusing and so was all the plot stories that it was too messy; even if a lot of this movie was great.
Kim Bangert
Lavish, erotic and grotesque -- Patrice Chéreau's adaptation of Alexandre Dumas' historical fiction of the battle for control of 16th Century represented by the King of Navarre and King Charles IX is basically cinematic opera minus the singing. However, it works beautifully.
Matty Stanfield
½
Historical drama of epic proportions, sumptuous yet gritty, held together by fine performances from Isabelle Adjani, maidenly, distant, yet passionate and Virna Lisi as the villainous Catherine de Medici. Labyrinthine yet compellingly flamboyant.
hawk ledge
Super Reviewer
Queen Margot (La Reine Margot) Quotes
There are no approved quotes yet for this movie.
Discussion Forum
Discuss Queen Margot (La Reine Margot) on our Movie forum!