Queen of Blood
(1966)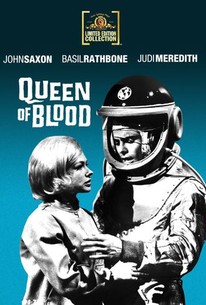 Movie Info
Shot on a miniscule $50,000 budget, and including footage from a 1959 Russian film that was later purchased by Roger Corman, this science fiction feature finds a tiny planet slowly dying. With the inhabitants in danger of perishing, some kind-hearted astronauts bring a green-blooded female alien back to Earth. The extraterrestrial shows her gratitude by going wild for human blood in the fashion of a blood-sucking vampire. John Saxon, Basil Rathbone and Dennis Hopper are some of the actors sentenced by their vindictive agents to appear in this 1966 film.
Rating:
NR
Genre:
, ,
Directed By:
Written By:
In Theaters:
On DVD:
Runtime:
Studio:
American International Pictures
Critic Reviews for Queen of Blood
Audience Reviews for Queen of Blood
½
73% "We're going to get back to Earth, all right, and we're going to take our monster visitor with us."-Allen Brenner (John Saxon) The year is 1990, Dennis Hopper is clean cut, green alien chick drinks the blood of male astronauts. She eventually dies, after laying what apear to be baby cabbages smothered in green jello sauce. "Eggs?"-Allen Brenner
FilmGrinder Stone
Queen of Blood is a highly entertaining piece of B-movie sci-fi horror from the 1960s that is perhaps most memorable for featuring a very young John Saxon (Enter the Dragon, Nightmare on Elm Street) and Dennis Hopper. Completely cheesy with terrible special effects, Queen of Blood still manages to be a decently creepy piece of B-movie sci-fi horror that may or may not be a rip off of Mario Bava's Planet of the Vampires.
Al Miller
"Queen of Blood" is an Ed Wood-quality sci fi flick with an unusual cast. Where else do you get Dennis Hopper, Basil Rathbone and John Saxon sharing screen time with a green skinned, pointy haired alien played by a former major screen actress whose career was destroyed by anti-Communist witch hunts? The stories of the cast members are probably more interesting than the flick itself. Not that "Queen of Blood" isn't interesting for all the wrong reasons. An alien ship has crashed on Mars sometime in the far-flung future (around 1995). A team of astronauts is dispatched to recover the ship and any survivors. What they find is a green alien queen with pointy hair (it makes her head look like a clove of garlic) and a thirst for blood. She can hypnotize with a glance, and before long she's slurping down earth blood and going through the crew. Still, her green blood has a weakness; it doesn't clot. Still, she's a queen in the insect sense, and she's going to leave her progeny stashed away to stage an invasion of earth and turn it into a fast food joint. Stay tuned! The production values here are as low as low can be. The sets are obviously sets. The rocket ships are on strings. There's a goof in one scene in which some of the alien queen's green makeup gets left behind on one astronaut's hand. The dialogue is stilted and the better actors in the cast seem to know it. Basil Rathbone is particularly phoning it in for this one; watch his utter lack of reaction in the scenes in which he's informed that one of the crew members has turned into a snack for the alien! "Aliens" meets "Dracula" meets "Plan 9 from Outer Space." If you get a chuckle out of Ed Wood's stuff and want to get a glimpse of what Dennis Hopper had to go through on his way up and what Basil Rathbone had to put up with on his way down, check out "Queen of Blood." It's so bad. So, so bad. And so, so unintentionally funny, and yet somehow just a little compelling when you consider the stories of the cast members.
Brian Seitzman
Discussion Forum
Discuss Queen of Blood on our Movie forum!