Queen of Outer Space
(1958)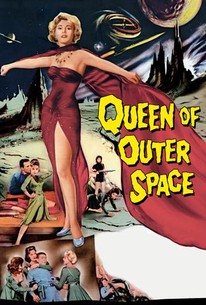 Queen of Outer Space Photos
Movie Info
In this frankly campy sci-fi film, a stiff-lipped spaceship captain and his two crewmen struggle to survive after their ship crashes on Venus. It doesn't take long for the hapless voyagers to discover that the planet is run by voluptuous, man-hating women led by a hideously scarred queen.
News & Interviews for Queen of Outer Space
Critic Reviews for Queen of Outer Space
Audience Reviews for Queen of Outer Space
Absurdly entertaining junk with Zsa Zsa the resident Venusian scientist by way of Hungary. She's gorgeous as are the rest of the ladies, although Zsa Zsa has that extra something, but the film is wildly sexist and at times unintentionally laugh out loud funny.
"Vimmen cannot live vizout ze men". Sigh.... Turner Classic Movies always provides us with the best and the worst. The "Queen of Outer Space (Queen of the Universe)" can be described as the so bad its good movie but not quite that good. This is one of those films you can't take very seriously, because if you do you're bound to hate it. If you are able to by-pass the sexist dingers and the incredibly poor special-effects, you may find this film likeable due to the campy-vintage feel. [IMG]http://img268.imageshack.us/img268/8558/queenofouterspacezsazsa.jpg[/IMG] The plot is extremely frivolous as expected. A space ship carrying four American astronauts is struck by a mysterious ray and forced down on the planet Venus; which is ruled by evil Queen Yllana (Laurie Mitchell), who has banished men from the planet and who now determines to kill our heroes and blow up the earth to seal the deal. Fortunately, the astronauts are befriended by Talleah (Zsa Zsa Gabor), scientist and rebellion leader. Along the way we encounter lots of leggy, busty women in mini-skirts, silly special effects that include a large rubber spider, and a doomsday machine that looks like it has been slapped together from cardboard and spray paint. [IMG]http://img801.imageshack.us/img801/3296/queenofouterspacedeathr.jpg[/IMG] The script was written by TV's Twilight Zone writer Charles Beaumont, obviously he didn't put much effort in this film here as there were great stretches of flat dialogue with accidentally funny one-liners, most memorably Zsa Zsa Gabor's "I HATE zat Queen!" Not to mention some awful sexist one-liners that would send feminists today into a crazy rage. The film was directed by Edward Bernds, a prolific creator of grade C movies during the 1940s and 1950s, and in general consists of people standing around looking like they wished they had something to do. Now if you're watching the picture with a critical eye, not something I'd recommend mind you but nevertheless, you'll marvel at the incredible occurrence of the hijacked astronauts landing on the planet Venus which last time I checked contained no oxygen and hazardous/poisoned rain clouds but somehow they don't need pressurized suits or an oxygen supply. What a lucky break! Then there's the whole business of Queen Yllana (Laurie Mitchell) looking to blow up Earth with that game-boy gizmo. When she finally got around to it, she kept punching that red button like one does on an elevator that fails to respond the first ten times. With all that, we never got to find out why the thing malfunctioned turning her into a crispy critter. Don't even ask me how the acting was..... [IMG]http://img835.imageshack.us/img835/1443/cultcampclassics1scifit.jpg[/IMG] "So bad it's good" movies really are a matter of personal taste; one person's hilarity is another's boredom. I personally felt the film held its own pretty well considering how noticeably stupid the whole concept was. In the end, "The Queen from Outer Space" is very easy on the eyes, can be hilariously bad at certain points but it just goes on about twenty minutes too long. The sexist liners were actually starting to bug me and I'm a dude so, you know it is pretty bad. [IMG]http://img707.imageshack.us/img707/7568/tumblrl89nosaomp1qz72v7.jpg[/IMG] Story: -- Acting: -- Direction: -- Visuals: -- Overall: C ** out of 4 stars
Matthew Rodrigues
Super Reviewer
Queen of Outer Space Quotes
There are no approved quotes yet for this movie.