Queen of Outer Space
(1958)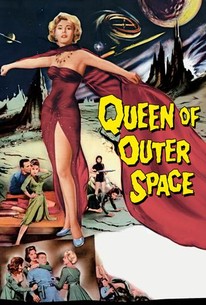 Queen of Outer Space Videos
Queen of Outer Space Photos
Movie Info
In this frankly campy sci-fi film, a stiff-lipped spaceship captain and his two crewmen struggle to survive after their ship crashes on Venus. It doesn't take long for the hapless voyagers to discover that the planet is run by voluptuous, man-hating women led by a hideously scarred queen.
News & Interviews for Queen of Outer Space
Critic Reviews for Queen of Outer Space
Audience Reviews for Queen of Outer Space
One of my favorite flicks ! Laugh your ass off while looking at GEORGEOUS Voluptuous WOMEN with nothing fake, & scantly clad. The movie was meant to be a joke people !! Even the actors on the last scene were all laughing at the film and how fun it was to make, it seems. Sexy flick_ don't listen to the Nay'Sayers unless you have no sense of humor and hate B flicks and or are a Homosexual. When I was a kid at the baby sitters house back in the early 70's ....this flick was on TV and one of the little boys watching with us got a 'Stiffy'. The baby sitter said, "Jason ? Do you have to potty ? You look like you have to potty." The kid said, "No, Mrs Mitchell....these Space girls just get my dingee !!" We all just cracked up laughing. So be careful while watching this flick ! The space girls might just get your dingee too !
Guy Mangotree
Definitely 50's campy sexist Mystery Science Theater fare. The awful special effects, contrived excuse for a plot, and cliched Venusian space babes in high heels desperate for men from earth, along with who else but Zsa Zsa Gabor seals the deal as one of the worst sci-fi films ever.
Bob Wolniak
Absurdly entertaining junk with Zsa Zsa the resident Venusian scientist by way of Hungary. She's gorgeous as are the rest of the ladies, although Zsa Zsa has that extra something, but the film is wildly sexist and at times unintentionally laugh out loud funny.
Queen of Outer Space Quotes
There are no approved quotes yet for this movie.
Discussion Forum
Discuss Queen of Outer Space on our Movie forum!