The Quickie
(2001)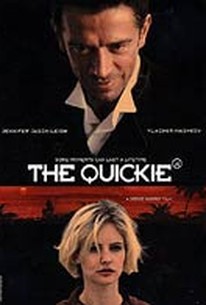 AUDIENCE SCORE
Critic Consensus: No consensus yet.
Movie Info
A gangster finds his professional, family, and romantic lives all taking unexpected turns in this offbeat suspense drama. Oleg (Vladimir Mashkov) is a kingpin in the Russian Mafia who has decided to get out of the business and move to the United States, buying a posh estate in Southern California as a retirement home. Oleg's mother, Anna (Lesley Ann Warren), was once a well-known dancer who was just 14 when she gave birth to him; only a few years later, she fled the Soviet Union, leaving Oleg behind. Today, the much-married Anna is living in California and dating Miguel (Jsu Garcia), a political activist from Peru, though she remains close with her third husband, Michael (Dean Stockwell), and their son, Alex (Henry Thomas). Oleg is also on good terms with Alex, and at a party at Oleg's new mansion, he announces that he'd decided to turn his share of the business over to Alex, much to the disappointment of Anna, who imagined the responsibility (and the money) would be going to her. Oleg soon realizes someone has it in for him, as he begins receiving threatening telephone calls and mysterious packages in the mail; adding to his discomfort, Oleg finds that his new home is overrun with roaches. Oleg calls an exterminating service, and to his surprise, they send over Lisa (Jennifer Jason Leigh), an attractive young woman who is to spray the home for bugs. Despite the constant activity around him, Oleg hasn't a wife or a girlfriend, and he finds he's quite taken with Lisa. Throwing caution to the wind, he decides to offer her a sizable tip along with the standard exterminator's fee if she'd be willing to sleep with him. Vladimir Mashkov's performance in The Quickie earned him the Best Actor prize at the 2001 Moscow Film Festival. ~ Mark Deming, Rovi
Rating:
R (language and sexuality/nudity)
Genre:
,
Directed By:
In Theaters:
On DVD:
Runtime:
Studio:
Pyramide Films
Audience Reviews for The Quickie
Though I love Jennifer Jason Leigh, this one really didn't do it for me. Not enough background on the characters, no development of the characters, and lots of talking heads with not much else going on. I'm guessing it was trying to be deep and philosophical; it wound up being a light-weight bore that didn't really play fair with the audience. If there is going to be an "ah!" moment, you should at least give us enough info to look back and say "how did I miss it?"
Don Schick
I rented it for Joel Heyman (his role as the bartender/butler was PIVOTAL to the story srsly....I <3 Joel), but I really did like the story anyway. Oleg was freakin' adorable.
Anna M.
This movie seems really, really short. It's also semi-confusing at the beggining. From the back of the case, I thought that this was a straight-up mob flick. It's not really. It's not even those Russian's from Triple X. I also don't know why Flixter is leaving Jennifer Jason Leigh off the cast list on this page. She's on the cover for goodness sakes. It's not really worth your time.
Michael Lawing
The Quickie Quotes
There are no approved quotes yet for this movie.