The Quiller Memorandum
(1966)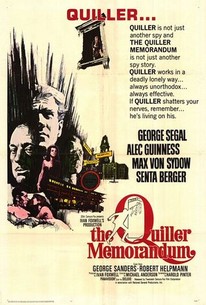 The Quiller Memorandum Videos
The Quiller Memorandum Photos
Movie Info
Based on a novel by Adam Hall, this well-wrought espionage adventure attempts to take a realistic look at the world of spies as it chronicles the adventures of an American agent who is assigned to go to Berlin and report back on the activities of a new generation of Nazis.
Critic Reviews for The Quiller Memorandum
Audience Reviews for The Quiller Memorandum
½
A thoughtful spy thriller, where everyone seems to know more than they let on. The only twist is how much knowledge is to be tolerated before someone dies?
Christopher Bergan
½
Pinter's spare screenplay gives George Segal some funny lines, but the fact that Segal doesn't engage in the usual Bondsmanship is welcome relief for audiences bored with one fantastic exploit after another and yearning for a more human look at spying.
Lee Mayo
One of the few cynical spy films made at the silly height of Bondmania, and also one of the most enduringly fascinating to this day. As all the great films seem to be, it's a film that's firmly anchored in its time, meditating on issues relevant to the period, and yet, decades later, we're able to view the film as not only a work of entertainment but also as an historical artifact of the turbulent transitional period from post-WW2 to the new era of the Cold War. "Quiller" works on both levels, but, crucially is more concerned with a study of the New versus the Old and if there will ever be a difference between the two. As the hero seeks out ex-Nazis hiding in old stone buildings he comes to realize that the current generation, young and beautiful, seen between glass walls and steel of the Bauhaus style schools and offices may look and sound different, but, beneath the surface, may be all too similar to the monsters of years earlier. The hand of the late, great Harold Pinter can be seen here as the author of the screenplay adaptation, though the film is also superbly directed and photographed, as well as acted by the underrated George Segal. Highly recommended for anyone seeking a spy film less about spying and more about looking -- looking at the facades and contemplating what's behind them.
Jeremy Bolton
The Quiller Memorandum Quotes
There are no approved quotes yet for this movie.
Discussion Forum
Discuss The Quiller Memorandum on our Movie forum!