R-Point
(2005)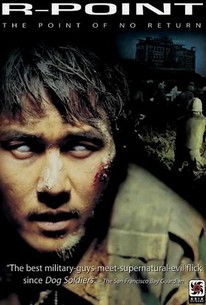 Movie Info
A mysterious radio signal prompts a troop of South Korean soldiers to set out in search of a missing patrol unit, only to find that the horrors of war aren't limited to the human realm in director Su-Chang Kong's tale of supernatural terror on the battlefield. As the Vietnam War rages, a South Korean army base begins receiving radio contact from a patrol unit that has been missing in action for nearly six months. With resources dwindling and the battle taking its toll on the fatigued troops, the determined but shell-shocked commanding officer leads his unit on a brave rescue mission to the source of the signal - a war-torn parcel of land known only as R-point that is seemingly devoid of human presence. But there is a presence there, and when it finally makes itself known to the weary soldiers, the one-time rescue mission quickly becomes a harrowing struggle for survival against a force more deadly than any war. ~ Jason Buchanan, Rovi
Critic Reviews for R-Point
Audience Reviews for R-Point
½
A team of soldiers are sent to "R-Point" where a platoon of soldiers went missing six months earlier to try and ascertain what happened and rescue any survivors. R-Point is another Predator clone with ghosts instead of a sense of humour. It goes through all the usual motions as the protagonists receive mysterious transmissions, sight ghostly figures and trip over corpses on a regular basis (two left feet I guess) as one by one they are picked off by an unseen force right through to the rent-a-twist conclusion. The setting of the Vietnam war gives its J-horror sensibilities a slightly different spin, but there have been plenty of haunted soldier films and this has little to differentiate it from them. Solidly directed, shot and acted but its all so generic it all adds up to just another case of "So what?"
A well made genre pic, no twists, no pointless gore, no big "boo!" loud noises or other stupid bullshit gimmicks. Just a straigh and well paced narrative, acceptable performances and a wise use of the camera. The movie takes it's time to build the suspense, the tension. Most of the characters are interchangable, and the script is full of familiar places, but the movie is made well enough to make you forget that. This is what asian horror has been known to do best, when they are at their best. No noisy quick cuts to "scare" the audience, just a sense of desperation that slowly builds up and catches you off-guard. Atmosphere done right in other words, a movie that actually thinks of it's audience as grown adults and not hyperactive ADHD teens that can't keep their attention on anything for more than 3 seconds. This is no masterpiece, but it doesn't have to be. Considering how rare is these days to find well made genre movies, when hollywood's idea of "fun at the cinema" is just filling everything with CGI, this type of movie is more than welcome.
Tsubaki Sanjuro
Super Reviewer
R-Point is a Korean film that is sort of a cross of the horror and war genres. Notice that I say "sort of" because director, Su-chang Kong, is going for an "antiwar" movie. This makes sense because the plot revolves around military soldiers, but not around them fighting a war.
The plot is slow going because there isn't much action. The bulk of this 105 minute film is spent on buildup, with some back story, and a bunch of suspense. With the exception of a quick fire fight as the soldiers arrive at R-Point, there is nothing else really explosive in the way of action.
The part of the film that most people may find disappointing is that most of it is pretty monotone. The scares aren't that many, at least in the earlier parts, and as I previously mentioned there is a lot of story buildup. This isn't a bad thing because you do get to see each soldier sort of transform before your very eyes as the paranormal element kicks in. Now, because of all the buildup, it just makes the "R-Point: Day 4" and "R-Point: Day 5" segments that much more satisfying.
The violence and gore is a little on the bloody side, but I wouldn't say it is over the top. Does it need more of it? Maybe in the earlier parts of the film.
The acting isn't too bad. The Korean soldiers are great to watch, especially when they start losing it. There are a few minutes where American soldiers appear on screen and they just stink it up. Seriously, they were just reading from the script. As usual, the American actors don't fit well in another Asian movie.
While R-Point may not be the scariest of horrors, it does have a good enough story, albeit a bit confusing one, to make this a decent watch.
R-Point Quotes
There are no approved quotes yet for this movie.