Rabies
(2010)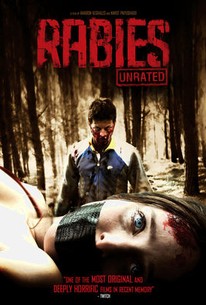 Movie Info
Strange things are happening to a handful of people lost in the woods in this offbeat horror film from Israeli filmmakers Aharon Keshales and Navot Papushado. Tali (Liat Har Lev) has become trapped in a stretch of mine shaft that hasn't been used in years, and her brother Ofer (David Henry) is desperate to free her, in part for the sake of her safety and partly in fear of their parents learning their shocking secret. Tennis players Adi (Ania Bukstein) and Shir (Yael Grobglas) are en route to a match with Mike (Ran Danker) and Pini (Ofer Shechter) when a short cut goes wrong and they end up lost. Menashe (Menashe Noy) is a forest ranger who senses things are not quite right while talking his dog for a walk. And Dani (Lior Ashkenazi) and Yuval (Danny Geva) are a pair of clumsy police officers patrolling the area. Ofer flags down the tennis players for help, and before long the cops and the forest ranger show up. As this group of strangers try to deal with the immediate crisis, they soon discover a serial killer is on the loose, and deadly violence is appearing in unexpected places. Billed as the first Israeli slasher film, Kalevet (aka Rabies) received its North American premiere at the 2011 Tribeca Film Festival, where it screened as part of the Cinemania program. ~ Mark Deming, Rovi
Rating:
NR
Genre:
, ,
Directed By:
Written By:
On DVD:
Runtime:
Studio:
United Channel Movies
Critic Reviews for Rabies
Audience Reviews for Rabies
A brother and sister who have run away from home. A car full of teens who have taken a wrong turn. A park ranger and his wife. Two questionable cops. What do all of these people have in common? They are lost in the woods with a psychopathic serial killer, who has set a series of sinister traps all throughout the park. RABIES is touted as being Israel's first venture into the Slasher genre, and it makes quite an entrance! Writer/Director team Aharon Keshales and Navot Papushado take what would normally be familiar characters, settings, and situations, and create something wholly original. The pair introduce us to five distinct sets of characters, and manage to strike an intricate balance between them as the film progresses. Each new scene brings new surprises and unexpected twists at every turn, keeping audience members on edge from beginning to end! Keshales and Papushado have a gift for framing and editing each shot for maximum impact, which drives the tension and pitch-black humor higher than ever. Sharper than SEVERANCE, more clever than THE COTTAGE... RABIES takes the game of survival to a whole new level! -Carl Manes I Like Horror Movies
Carl Manes
½
A brother and sister who run away from home find sanctuary in a deserted nature reserve. When the sister falls into the trap of a psychopathic killer, the brother sets out on a race against time to find help. In a twist of fate the rescue of the sister becomes inadvertently intertwined with the lives of a group of young tennis players, a ranger and his dog, as well as a team of policemen. Rabies is an interestingly odd throwback to backwoods slashers and a pretty decent, entertaining, very first horror film from Israel. The film was never really scary because I've seen so many films of its kind, nor did it try to be. It's tense, fast paced, bloody and a good time for the most part. It just wasn't above average to make it memorable or worth your time. The performances were average, no one really stood out, and no one was lousy, just ok. The characters made smart and dumb decisions but were forgettable and almost cardboard cut outs, but were likable. Writers and Directors Aharon Keshales and Navot Papushado did a pretty good effort with this horror film, especially for first timers. The unpredictability of the story was a breathe of fresh air for a movie like this. Yet at the same time it could of been much better if they took it a notch further with higher stakes. They are definitely decent filmmakers that have potential, so I'm curious to see what they bring us next. Overall, it's not your normal backwoods slasher and has enough carnage in it to satisfy fans, but it's nothing all that memorable. It's a decent effort and Israel's first spin on the genre which was neat, just nothing you need to see right away. Netflix rental. 5.9 out of 10
Matt Slash
Super Reviewer
½
My first Israeli horror film , Rabies is almost a masterpiece of the genre with its unique blend of the twisted and the bizarre. Essentially a slasher film, Rabies thoroughly transcends the genre from its opening creepy moment through the final minutes of the film. If I could compare it to anything, it would be Mario Bava's Bay of Blood, but any comparisons do the film a disservice. Disturbing, brutal, tense, and constantly surprising, Rabies is everything that good horror cinema should be.
Al Miller
Rabies Quotes
There are no approved quotes yet for this movie.
Discussion Forum
Discuss Rabies on our Movie forum!