Race You to the Bottom
(2005)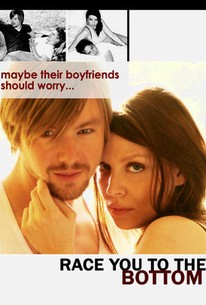 Race You to the Bottom Videos
Race You to the Bottom Photos
Movie Info
A bisexual travel writer assigned the task of covering Napa Valley's most romantic hot spots invites an old college friend to join him on his quest, only to find their attraction blossoming into something much more complex in writer/director Russell Brown's look at fidelity, promiscuity, and sexual morality in the modern era. Nathan (Cole Williams) is an L.A.-based writer preparing to pen an article about the Napa Valley wine district. Recognizing that a trip to wine country is always more fun when you invite a friend along, Nathan contacts old college friend Maggie (Amber Benson), who readily agrees to join him on his trip. Though both Nathan and Maggie currently have boyfriends, their attraction to one another finds wine tasting taking a back seat to an affair that raises numerous questions as to the fragility of intimate relationships when love knows no gender.
Rating:
R (for sexual content, language and brief drug use)
Genre:
,
Directed By:
Written By:
In Theaters:
On DVD:
Runtime:
Studio:
Critic Reviews for Race You to the Bottom
Audience Reviews for Race You to the Bottom
An interesting premise, acted out by completely unbelievable cast. The main draw for me was Justin (Green Arrow) Hartley, but he has all of five inutes of screen time and even he looked like he knew this was beneath him. No pun intended.
½
Amber Benson makes these movies, they are small, but, have this kind of heavy substance to them. I think its why I like her. I also like movies written from the heart, mind, and soul, not just eye candy in mind, so, yeah, most movies i like, no one has heard of and most do not like if they do on my recommendation. I'm pretty sure this would be one of those. Why i like it, i have moved in conservative circles most of my life, not so much by choice, as by default, and homosexuality is a big no-no, in find a lot of aspects of sexuality are. At the same time, i have always had friends who were gay or bi-sexual, and raised by a liberal single mom who had many gay friends herself in the 70s. So the former cons. issue, some of my FB friends will shake their heads at my obvious black sliding into sin for watching this movie, while others will probably be interested. Why i like this movie. Aside from the fact i see a bit of the writers heart in it. I have known very, very few ppl who have NOT had some kind of feeling or experience that was not, to some degree gay. Mostly in childhood or puberty, and mostly pretty benign. My won would fall under the latter, in kindergarten, the very first crushy feeling was for a girl, i was five, so, pretty much, no sexual connotations there, but, i thought she was the most beautiful thing I had ever seen and i was enamored with her, and got in trouble for hugging her because, "girls do not hug girls", lame. And in my young childhood, there was some physical curious exploration with both boys and girls So, this movie deals with 2 people who are in a secret relationship that is both cheating on their BFs, as well as that one is gay, one is straight, by definition, but, theirs is a straight, per say, relationship. They blurred lines many have int heir sexuality, which i find realistic. it deals with the pain of doomed relationships, also realistic, and i just really liked the heart of it, even if the acting was off sometimes, and the plot and writing was not the best in all places. As a writer myself I know that perfection does not exist, except maybe on some occasions, Joss Whedon can hit a full on home run, this is more the kinds of movies i strive to write. Speaking to me in a movie or tv show is nearly impossible for me, i am always re-writing it in my head, and can see the end coming far too early, and its ruined for me. This one did speak to me, so, i give if many kudos. If it not something that will make you fell icky, rent it online. DO IT!
Heather Lemmer
½
Tried having its own perspective but like most of Indies, its ambition was discounted by the immature directing, writing & acting.
WS Wu
Race You to the Bottom Quotes
There are no approved quotes yet for this movie.