Race for Your Life, Charlie Brown
(1977)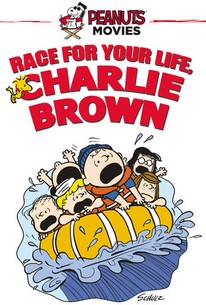 AUDIENCE SCORE
Critic Consensus: No consensus yet.
Race for Your Life, Charlie Brown Photos
Movie Info
This feature-length animated cartoon was based on the "Peanuts" characters created by comic-strip artist Charles M. Schultz. The gang is shipped off to summer camp, where Charlie Brown gets a "Go away and leave me alone" bunkmate, and where CB's beagle Snoopy ends up winning most of the athletic trophies. The Snoop also has a running feud with a mean-spirited pussycat. Meanwhile, budding feminist Lucy organizes an anti-boy campaign amongst the girl campers. The bulk of the action transpires when the gang builds a raft to enter a dangerous shoot-the-rapids race, only to be outclassed by the professionally built vessel picked up by their competitors. Happily, pluck and luck wins out over arrogance and mean-spiritedness.
Critic Reviews for Race for Your Life, Charlie Brown
All Critics (2) | Top Critics (1) | Fresh (2) | Rotten (0)
Can amount to either a delightful experience or a pleasant but slightly wearing one, depending upon the intensity of one's fascination with the basic "Peanuts" my...[ END HERE ]tique
The animation is no better than competent, but the film has a nice bluegrass-style musical score by Ed Bogas and should be fine for the kids and "Peanuts" fans.
Audience Reviews for Race for Your Life, Charlie Brown
For Peanuts fans it is fun little cartoon with some great Snoopy moments. But, by todays animation standards, it seems crudely drawn and doesn't completely hold up 38 years later. But, it was still enjoyable for the most part not seeing it since I was ten years old. 07-04-2015
Christopher Oakley
Super Reviewer
This was just the Peanuts at their best.
Bradley Wright
Super Reviewer
Released in the summer of 1977,the third installment or sequel featuring Charles Schultz' Peanuts characters in another theatrical feature. This time around Charlie Brown and the gang(along with Peppermint Patty)are at summer camp in which they enter a river race where they go up against a vicious group of kids who cheat there way to the topand will stop at nothing to win the championship trophy at all costs. Leave it up to Charlie Brown's resourceful Beagle Snoopy and his companion Woodstock to save the day and win the prize. Valuable lessons are install here with a full blend of comedy and adventure to boot.
Mister Caple
Super Reviewer
Race for Your Life, Charlie Brown Quotes
There are no approved quotes yet for this movie.