Race to Nowhere
(2010)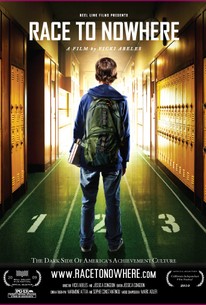 Movie Info
A concerned mother turned filmmaker aims her camera at the culture of hollow achievement and pressure to perform that has invaded America's schools. It is destroying our children's love of learning and feeding an epidemic of unprepared, disengaged, and unhealthy students. This remarkable new film shines a light on the price our kids pay for this "race to nowhere." Cheating is commonplace, stress-related illness, depression and burnout are rampant, and ironically, young people arrive at college and the workplace unprepared and uninspired. Featuring the heartbreaking stories of young people who have been pushed to the brink and educators who are burned out and worried that students aren't developing the skills needed for the global economy, RACE TO NOWHERE points to the silent epidemic running rampant in our schools. RACE TO NOWHERE is a call to families, educators, experts and policy makers to examine current assumptions on how to best prepare the youth of America to become the healthy, bright, contributing and leading citizens in the 21st century. Among many others, RACE TO NOWHERE features Dr. Madeline Levine, author of the bestseller, The Price of Privilege, Dr. Deborah Stipek, Dean of the Stanford School of Education, Dr. Kenneth Ginsburg, an adolescent medicine specialist at the Children's Hospital of Philadelphia, Dr. Wendy Mogel, author of The Blessing of a Skinned Knee, Denise Pope, author of Doing School, and Sara Bennett, author of The Case Against Homework. -- (C) Reel Link
Critic Reviews for Race to Nowhere
Audience Reviews for Race to Nowhere
½
Stirring. May strike many high-achievers very close to home. Doesn't just raise issues, but offers suggestions. While its suggestions are not particularly innovative, the movie may inspire others to innovation. Could have further discussed what is the likely eventuality of a society where not just kids but adults also are engaged in a very long 'race to nowhere'. While the interviews spoke volumes, a few statistics would have better proved-out the discussion.
z z
Race to Nowhere Quotes
There are no approved quotes yet for this movie.
Discussion Forum
Discuss Race to Nowhere on our Movie forum!