Radio On
(1980)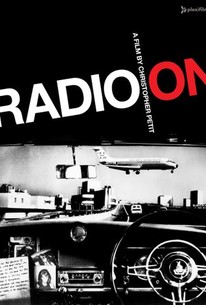 AUDIENCE SCORE
Critic Consensus: No consensus yet.
Movie Info
Set in England's dreary midwinter season, this slow-paced story chronicles the partial awakening from apathy of Robert, a DJ, as he investigates the mysterious death of his brother. As he travels, he is constantly surrounded by music from David Bowie, Kraftwork, Sting and Devo, among others. Despite his apparent intention of looking into his brother's death, he can't bring himself to investigate even the most blatant clues. As his anomie returns, he begins discarding any connection with his surroundings, eventually boarding a train bound for he knows-not-where. Despite the movie's relentlessly grim storyline and setting and its slow pace, some reviewers reported that they found this feature oddly refreshing. ~ Clarke Fountain, Rovi
Audience Reviews for Radio On
½
The Wenders influence may weigh heavy, but it proves at least that the borrowing of foreign methods and perspectives is often the most useful route to finding a new way of looking at one's own country.
Lee Mayo
Minimalist to an extreme, "Radio On" is a low-budget, black-and-white film obviously informed by the ruminating works of Wim Wenders (who co-produced) and Michelangelo Antonioni. A quietly hip, late-night DJ (David Beames) hears of his brother's suicide and takes a long, slow drive to visit the scene. He encounters various people along the way (including the punk-era Sting as a singing gas-station attendant who loves Eddie Cochran) and has some aimless conversations before moving on. He meets a few women, but his character is so vacant and withdrawn that there's no question of him pursuing sex with them. This is a solitary journey. "Radio On" has a fine period soundtrack (David Bowie, Robert Fripp, Kraftwerk, Devo, Lene Lovich, Wreckless Eric though, oddly, no Modern Lovers) and mostly serves as a mood piece. It's also a time-capsule look at a dour, depressed England. If this quintessential road movie's lack of story doesn't make you bail out in frustration, you'll finish in a satisfying, reflective state of mind. The film is also mandatory for Jim Jarmusch fans -- and bear in mind that it was released five years before "Stranger Than Paradise."
Eric Broome
Super Reviewer
½
"Why do the English want to live by the sea?" "Last resort...? (silence) It's never as good as they think it will be..." Saw this last evening at the local arts cinema in Newcastle. And what a magnificent British art film this is; ex-Time Out film critic Christopher Petit, spurred by the twin influences of the road movies of Wim Wenders (co-producer) and the incipient post-punk scene. There are scenes, glimmers and furrows which sometimes only later come through to haunt the mind; the whole stands as a brilliantly paced and sustained aesthetic reflection of decay and despondency. The Britain of 1979 is often simultaneously beguiling and deadening; great symbolic tower-blocks on the way out of London, desolate countryside heading west... so much that you feel could give root to extensive, restlessly ruminative Iain Sinclair or Paul Morley annotation. This film is indeed about more than 'plot', though it hangs on the path of a man who is shown going about his typical, elliptical life in London, where he seems to be a holed-up DJ for some obscure station. His 'show' is jarringly shown playing in an industrial work setting; presumably to those who cannot hear - is this use of music perhaps not so far from the choric Alan Price in "O Lucky Man!"? After a time, he begins a car journey to Bristol in search of 'answers' regarding the unexplained death of his brother; which is possibly, though never definitively, linked with a pornographic movie racket - reported in radio news bulletins - in the West Country. I could make few spoilers that would seem significant, though points do jab out at you; particularly in the sense that expected explanation or fruition occasionally seem on the cards. But, hauntingly, we are left to puzzle things out ourselves; which may well be a pointless task if one is to think in usual, lateral patterns... The main actor does a wonderfully minimal job, as is best with this sort of project; a face that moves only a certain amount, and when needed; above all, a face that reveals itself as the blank canvas mask that we alone can choose or otherwise to feel the emotions through. He is a guide, but rightfully not one we are encouraged to easily identify with; though at times, I certainly can. The landscape, the lyrically still, gently moving camera, the haunting, 'dehumanized' pop strains of Bowie, Lovich, Kraftwerk; these phenomena bring out our responses... Or rather the cumulative effect does. It is only perhaps broken by the unnecessary interlude with Sting, which shows the man with a good deal of smugness, even back then and within this film. This is unfortunate considering it follows relatively soon after the slow jukebox tableau, the camera tapering around the pub for the whole duration of a Wreckless Eric song on the jukebox. So little happens that the mere act of one figure hitherto seated getting up and leaving the establishment takes on implausibly moving dimensions. Surely it was not just me who was moved impossibly by the sudden move to a hauntingly wistful bucolic scene? This fairly brief shot is lit and framed magisterially, contrasting with the previous Beckettian Suicide-comedy on the cliff-top, with Kraftwerk's "Ohm Sweet Ohm" spiralling on to heights of tinpot-music box melancholia. This film marks out an approach that sadly was not taken up in British film-making more widely; it takes its time to get precisely nowhere, and yet everywhere, in comparison with so many things we call 'films'.
Cassandra Maples
Super Reviewer
Radio On Quotes
There are no approved quotes yet for this movie.
Discussion Forum
Discuss Radio On on our Movie forum!