Radioland Murders
(1994)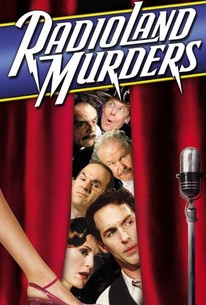 Radioland Murders Videos
Radioland Murders Photos
Movie Info
In 1939, the gala opening night of a new radio station takes a turn from chaotic to catastrophic when people start turning up dead. This nostalgic, cameo-laden comedy-mystery focuses on Roger, one of the station's writers who must solve the murders to clear his own name and save the station.
Rating:
PG
Genre:
,
Directed By:
Written By:
In Theaters:
On DVD:
Runtime:
Studio:
Universal Studios Home Video
Cast
Critic Reviews for Radioland Murders
Audience Reviews for Radioland Murders
½
This is definitely one of the most underrated movies of all time. For some reason none of the critics seem to have liked it and it was a giant flop at the box office, which is a huge shame. It has a very classical sense of humor not seen in modern movies and really draws on its 1930's charm the whole way through. It's fast talking and nonstop slapstick all the way through. Sure, it gets a bit exhausting sometimes, but after awhile the sheer ridiculousness of how many slapstick stunts they pull in a minute begins to actually get enjoyable. Not in a, "wow that was done so well" sort of way, but more in a, "wow they are REALLY determined to get more falls in this movie". There are actually a lot of famous actors in this movie, although most of them are completely indistinguishable from their current selves. This movie is just a barrel of laughs and doesn't even remotely take itself seriously. I would put this in the same comedy bracket as Clue and Murder by Death and such movies. Maybe not as much on their level, but it definitely is a lot better than most people give it credit for. I saw this movie when I was younger and recently rewatched it and it retained far more of its comedy and rewatchablility than some other goofy comedies. Take a look at Dumb and Dumber and Spaceballs, if you go back and watch those movies now, you will be excruciatingly disappointed. Radioland Murders still manages to deliver plenty of laughs though.
Trevor Merrill
An attempt to capture nostalgia of the 1930's radio dramas that doesn't really work. Somewhat interesting but the lead actors are pretty weak compared to the supporting cast. Maybe it was the last time that we would ever see George Burns or Christopher Lloyd as a zany sound effects guy but aside from a few minor perks Radioland Murders almost sucks.
Rodney Eckrich
It does come across that everything Mr Lucas has put his chubby finger to since Star Wars doesn't quite turn out so well (apart from 'Indy'), the recent 'Red Tails' for example. This goofy slapstick comedy on paper had promise and I was quite excited to watch it as the period setting plus the 'who dunnit' murder aspect I like. The whole thing sounded like a kind of 'Clue' or 'Haunted Honeymoon' type venture, that nice dated 30's to 50's setting with smart suits with well spoken chaps n dames all set within a spooky atmosphere. Unfortunately this film is really quite boring and insanely stupid, there is way too much slapstick in your face screwball comedy...and its not even very good, just forced. Everyone is falling arse over tit every five minutes and the editing is so damn choppy, you zip from one pratfall to the next as if they were individual sketches pasted together. Awesome cast line up, every well known character actor in Hollywood has been stuck in this but that can't save the film. Brian Benben was for me a bad choice of lead for the story, he's one of those guys that just fits TV roles better and he's also annoyingly unstable here with the most lame physical comedy display. Good ideas with a great era and concept to homage but this falls flat on its face, it should of been a classic but somehow its been fudged well and truly, damn it Lucas!
Phil Hubbs
Super Reviewer
Discussion Forum
Discuss Radioland Murders on our Movie forum!
News & Features